It was a late afternoon start. We didn't heat down to the bus to our next destination until almost four o'clock. We still would have gotten to our destination quickly if it weren't for the world's most careful bus driver…if careful means driving 15 – 20 mph LOWER than the posted limit, and only driving on side streets so as to avoid mutli-lane traffic. Our trip to downtown Disney which only took 13 minutes to get home, took about 30 minutes this afternoon.
We decided to mix our trip up a bit. We decided to hit Downtown Disney tonight instead of waiting until the last night. I think this turned out to be a great plan. We found a lot of things in Downtown Disney, but amazingly, no t-shirts we liked for the kids. So, now we can still shop for those without feeling like we have no time to get something else.
When we first entered the park, we found the Pooh store, and beside it was a quiet bench. Tanner & Morgan were more than happy to take pictures with these characters.
Then, we hit the Lego store and Wide World of Disney store. I don't know what I was expecting, but something different. So, we got a few things, but not as much as I had planned (my wallet and my husband are grateful). We did let the kids pick out "something" – I think they were overwhelmed with their choices, so it was kind of funny when Tanner settled on his ears. What one has, the other usually wants.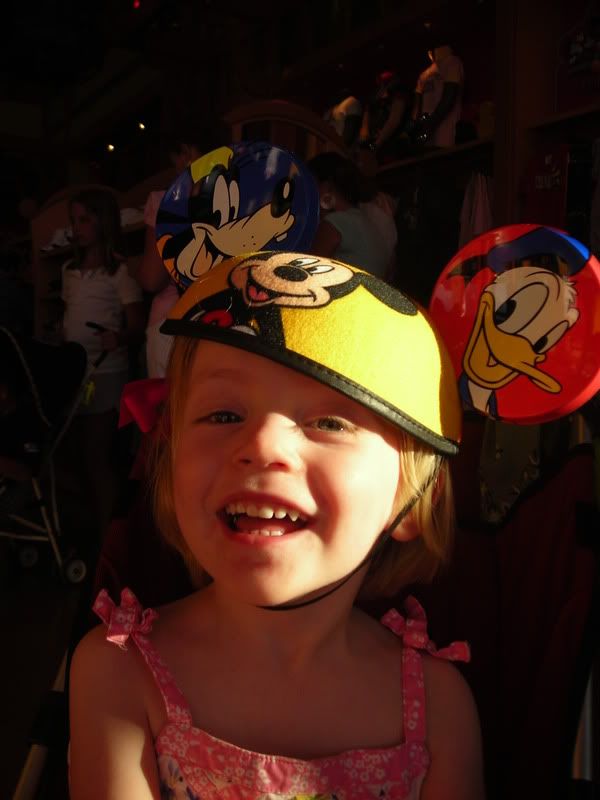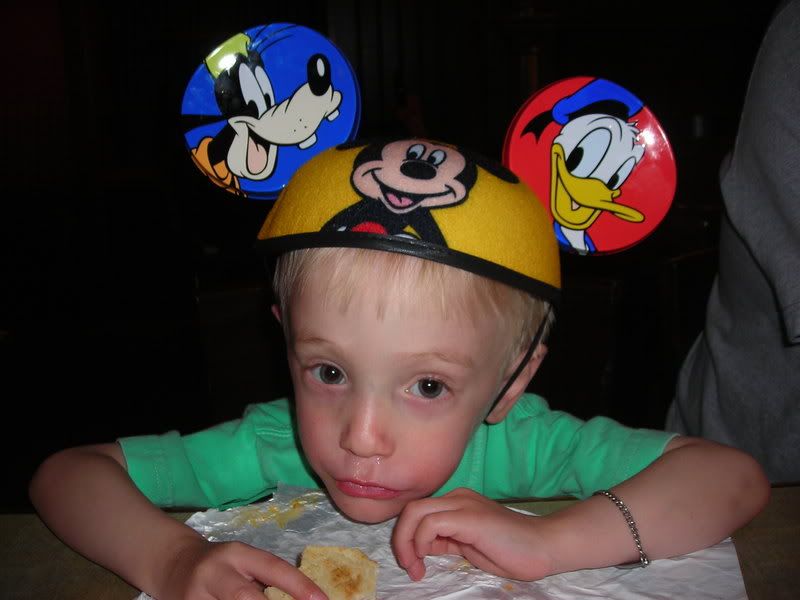 We've got ears, say cheers! (Any mom of toddlers who watches the Mickey Mouse Club will appreciate that…)
By the time we ate supper (Earl of Sandwich – very yummy sandwiches), rode the bus back home, gave baths, and got the kids to actually fall asleep, it was nearly 10 p.m. My guess is we'll get a late start tomorrow.
On tomorrow's agenda, a final tour of Animal Kingdom. Supper at Chef Mickey's. This is our "big" affair. We've arranged to have an early birthday there for Tanner & Morgan. I was just so pleased when they were able to make an egg-free birthday cake for the kids. Afterwards, we'll probably ride the monorail around the resort and possibly see the evening parade & nighttime fireworks at Magic Kingdom. It all depends on naps and level of grumpiness.