This was a big planned evening for us. I had managed to order an egg-free birthday cake for the kid's at Chef Mickey's. Now, I know that their birthday isn't for another 1.5 weeks, but we wanted to celebrate it while we were down here. And, in the spirit that Disney can do nearly anything, they were able to make Tanner & Morgan an egg-free cake.
So, off on the monorail to Chef Mickey's. The kids loved the monorail and it was a very convenient form of transportation. The characters were in full force. This was much to Morgan's great delight. And, Tanner would squeal everytime a character came near, jumping in his seat, shouting their name, but when they got close….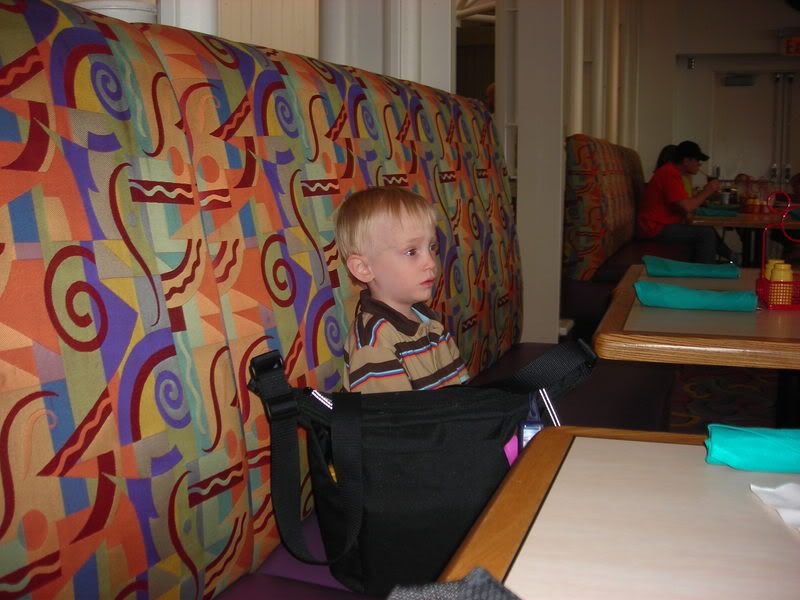 "Tanner, do you want to meet (insert character's name here)?"
"NO!"
Morgan LOVED meeting the characters.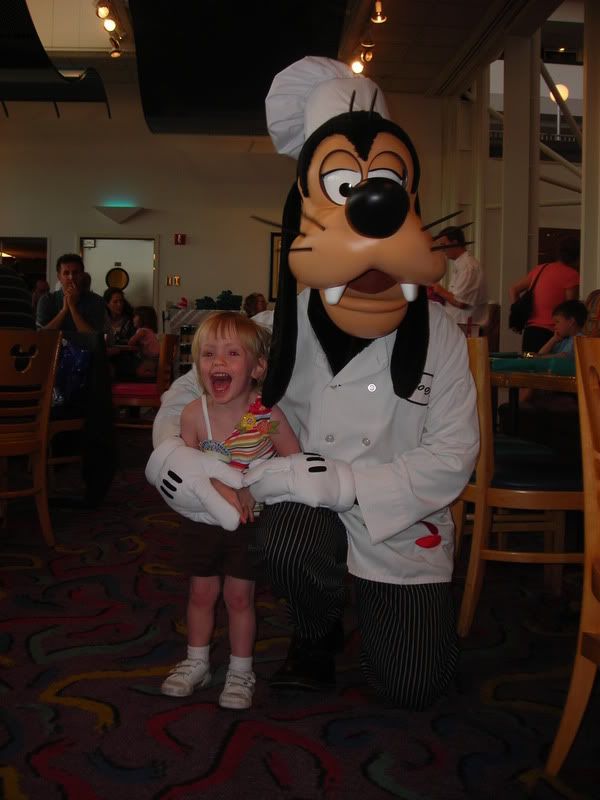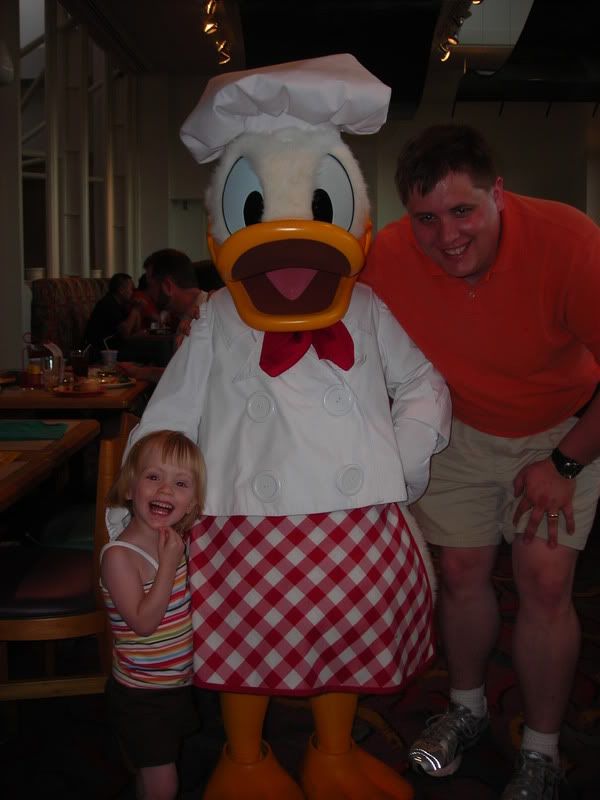 And, of course, the highlight was when the birthday cake came our. They play a birthday song about every 30 minutes. Our waiter delivered it to the table: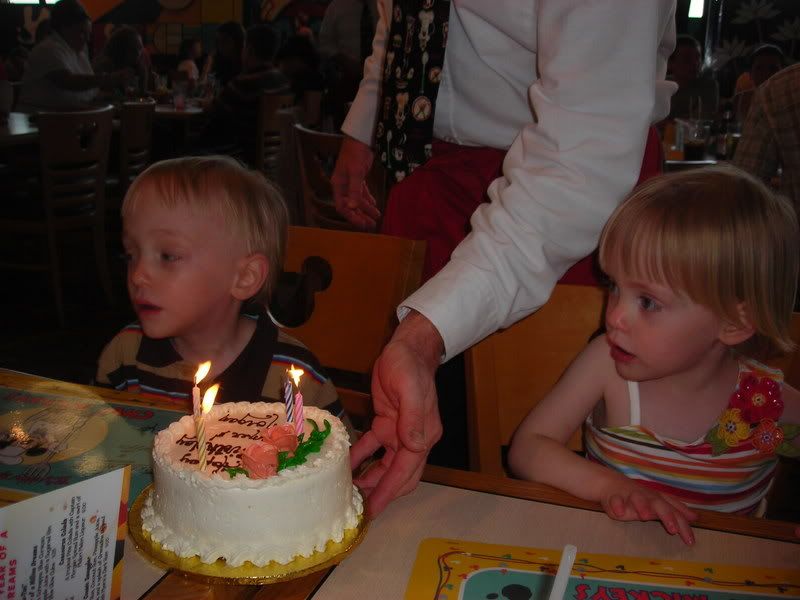 And, then the characters come around to wish the kid's happy birthday. In this photo, Tanner did not know Goofy was behind him.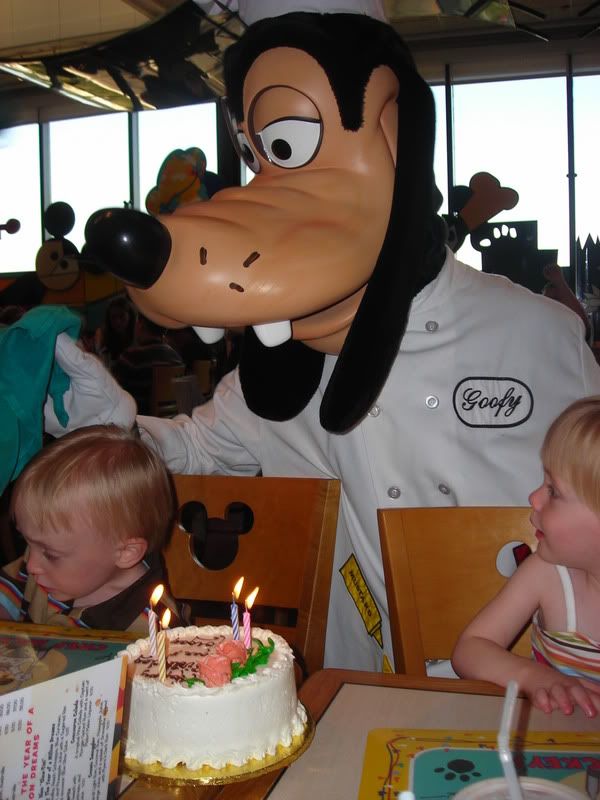 When he found out, he hightailed it to the other side…you can see the empty seat in this picture: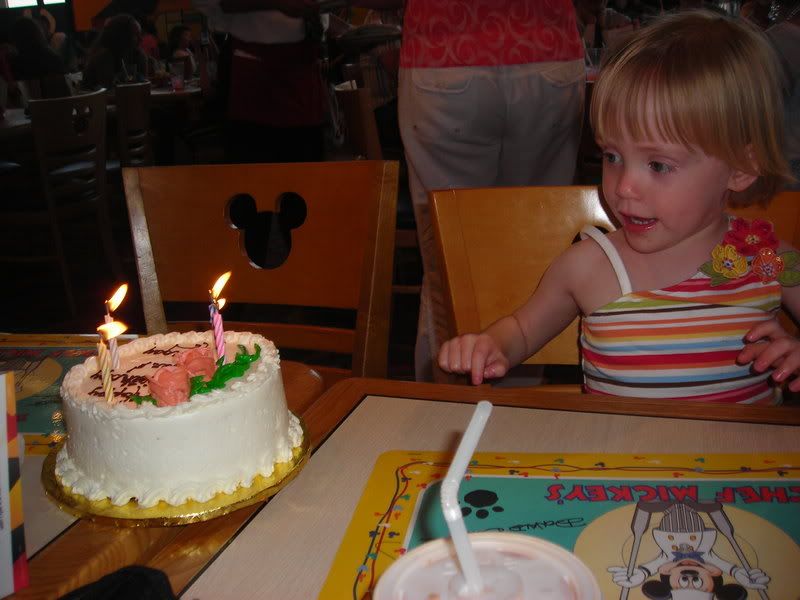 He wanted nothing to do with it when Mickey came over to help blow out the candles. Thank goodness Morgan loved the help.
After dinner, we headed back on the monorail to the Magic Kingdom. We had considered skipping it, but we had promised Morgan the night before that she could ride on a carousel "tomorrow". Of course, she had not forgotten.
This was Morgan's first sighting of the castle…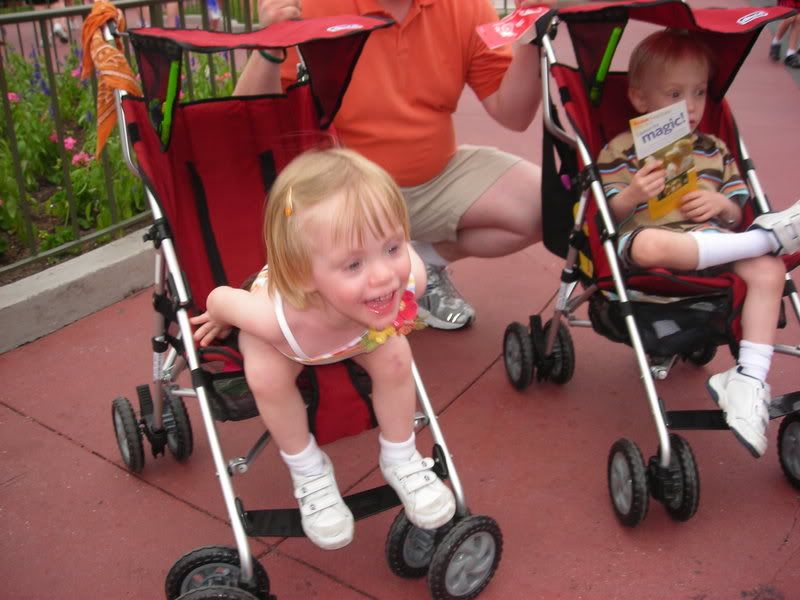 We walked down main street towards the castle (we'll do some shopping over the next few days), and made our way to the carousel. We actually walked right onto the carousel with no waiting.
While on the carousel, Morgan spotted the Dumbo ride and said "I want to ride that!". Now, Dumbo is known for little kids loving it, and incredibly long wait times. When we got the line, there was a lady there, so I asked her how long the line was.
She said "Well, as chance would have it, I need a co-pilot for Dumbo, would one of your kids be willing?" This lady was part of the "Year of a Million Dreams" – and the "dream" she granted was a co-pilot for Dumbo's ride – front of the line, no waiting, with a pilot's license to prove it.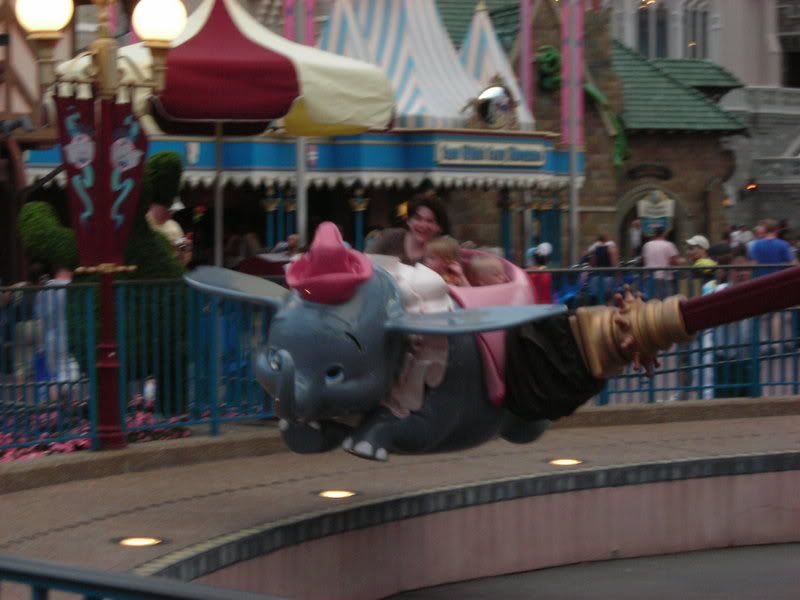 While it wasn't a night in Cinderella's castle, I was excited, and Randy was pretty amazed when he figured out what was going on.
Then, we rode the Winnie the Pooh ride. It was deemed to be very kid friendly, it still scared Morgan.
And, then, Randy & I decided that we would try to stay for the parade. We actually got excellent seating, and then waited the hour for the parade to start. Amazingly the kids were pretty good for the entire hour, and I think they (and we) were rewarded. They were very intent on the parade: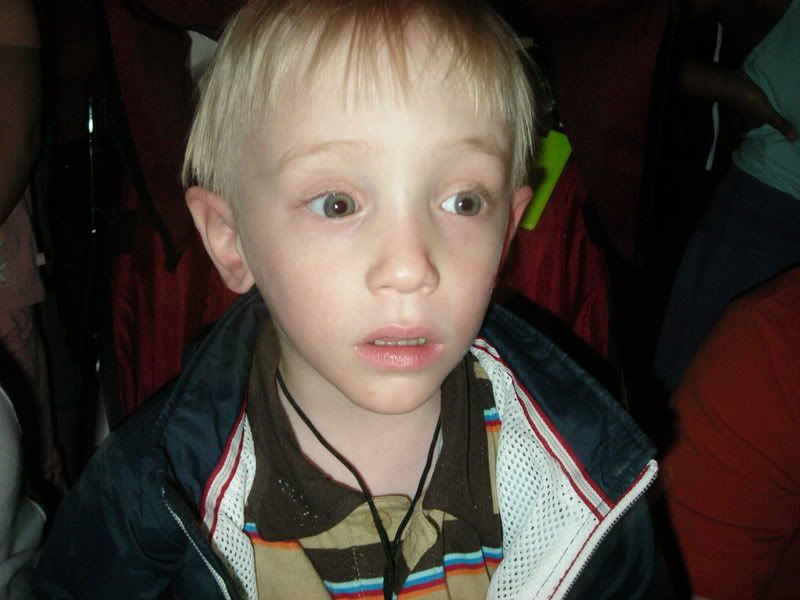 It really is a gorgeous parade with the nights on all of the characters and floats. We considered sticking around for the fireworks, but it started to rain just as the parade ended, and we really weren't prepared for that. So, we took our four weary selves back to the hotel.
It's nearly 8 a..m., and the kids are still out. So, it will be a late start today. We're headed back to the Magic Kingdom for lunch with Pooh & friends (any wagers on whether or not Tanner will warm up to these guys?).
In other news…we're starting to get really worried about Tanner. He has been doing wonderful with potty training down here. He's had no accidents, even when we haven't been able to get to the potty for 20 minutes after he's asked (bus ride). However, he hasn't pooped since we left Kansas (Sunday night). He's tooting, so I'm more worried about whether or not I'll have to change him when he does finally explode.