You know the day is starting out right when your almost-three year old jolts you out of bed at 5:50 a.m….
Thankfully, it did actually get better when we peaked out the window and saw these guys peaking back….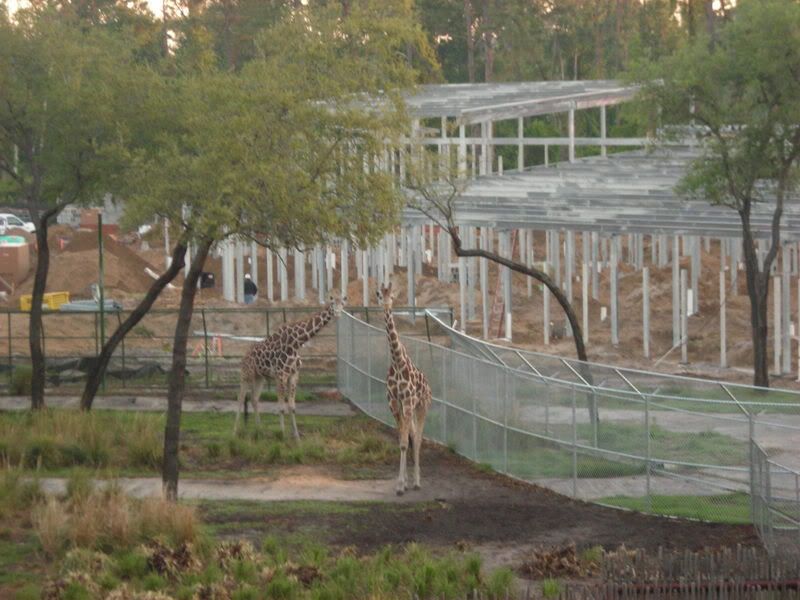 So, we gathered up the herd. Tanner really would have preferred to sleep awhile longer, but Morgan was excited to FINALLY! SEE! THE! PRINCESSES! So, off we went to Epcot: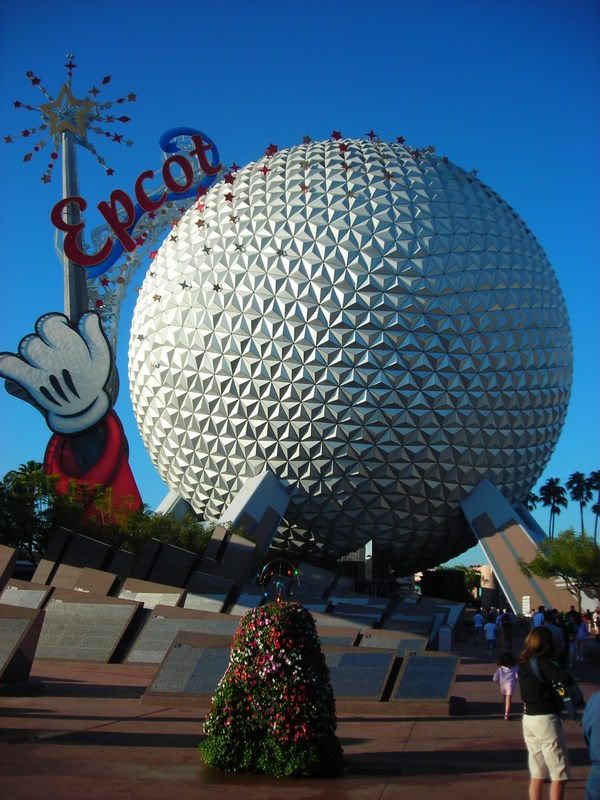 Since we got there early (8 a.m.), we used the opportunity to ride the Spaceship Earth ride. It scared Morgan to death (you'll notice a reoccurring theme here). After that, we decided to check out the all new Nemo ride. Unfortunately, we got there a bit early & had to wait awhile. Which, in mommy's world, means photo opp.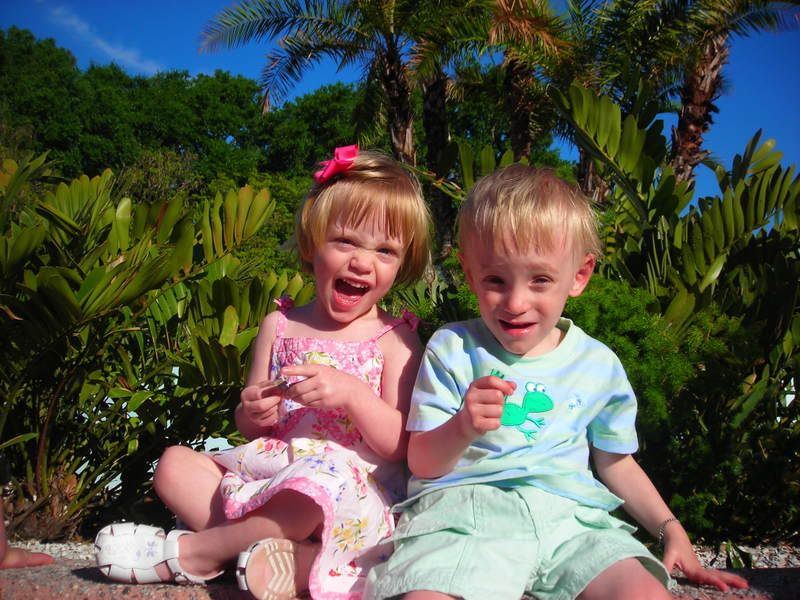 It was a fairly short ride, and cute. It scared Morgan. I would have said it was hardly worth the wait…until I saw the animation in the water. I'm not sure how they did it, but they actually make an animated, 3D Nemo "swim" with the real fishes. That was incredible.
On the exit of the Nemo ride, we encountered a bunch of aquarium displays. Morgan & Tanner loved watching the dolphins swim in the tank, and then we let them count Nemo.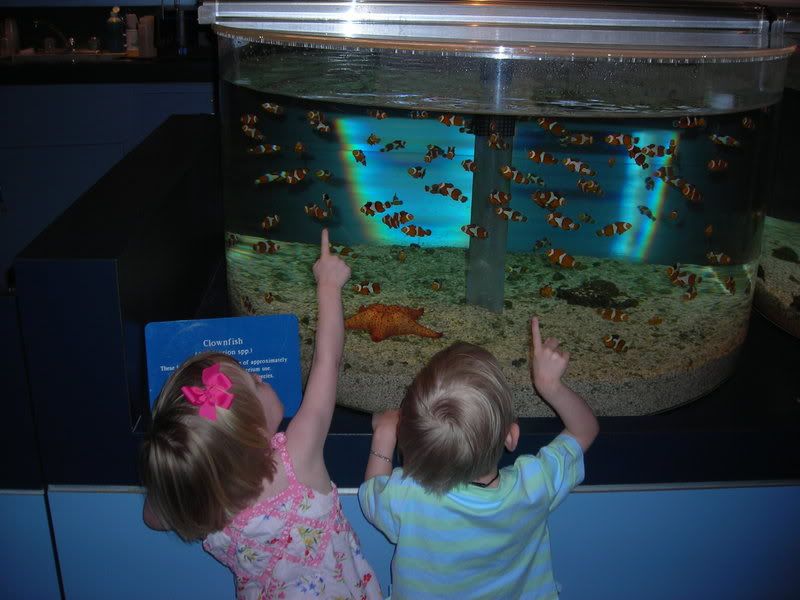 Now, for those of you who know Randy & his background, you'll understand how much he enjoyed finding the following item: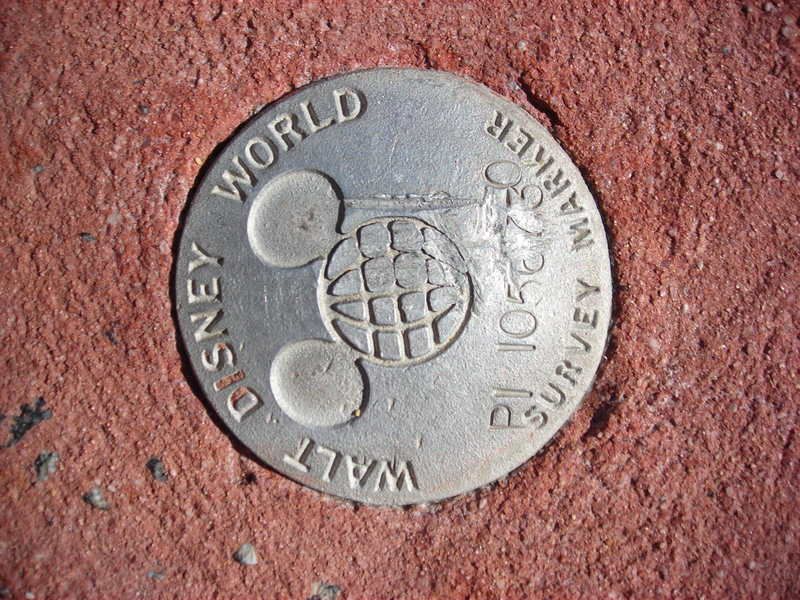 Yup, that is a Walt Disney World survey marker. We spotted a few different ones around the park, and to say the least, Randy was very tickled by this.
We then did a ride through The Land, which talks about how plants have been grown in the past, and what Disney is doing to grow things in the future. I remembered this ride from long ago, and it was still really enjoyable. And, yes, even this ride scared Morgan (pretty much any dark ride is going to scare her). We were tickled by the 9 pound lemons (they can each produce a gallon of lemonade!) and the Mickey Mouse shaped pumpkins.
Finally, off to see the Princesses. We had originally booked the Princess lunch for Morgan – boy, did we underestimate Tanner. He totally & completely fell in love with the Princesses. Where yesterday, they wouldn't go near the cast of characters, today, they did not hesitate to see the princesses.
We got to start by greeting Sleeping Beauty (thankfully my kids know which princess is which)…
Tanner literally ran up to her to give her a hug and about knocked Morgan out of the way. We should have read this as an early indicator of what was to come.
And then, the other princesses came out:
Ariel
Belle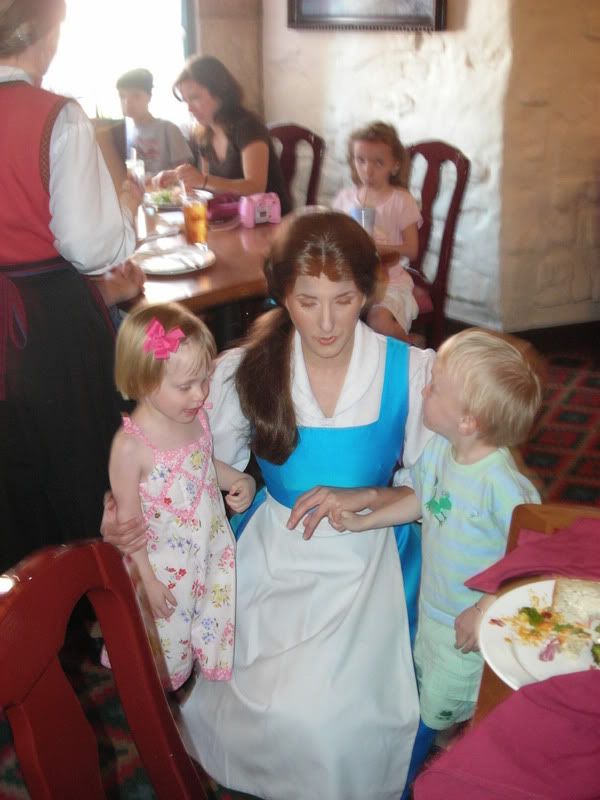 Jasmine (probably Tanner's favorite)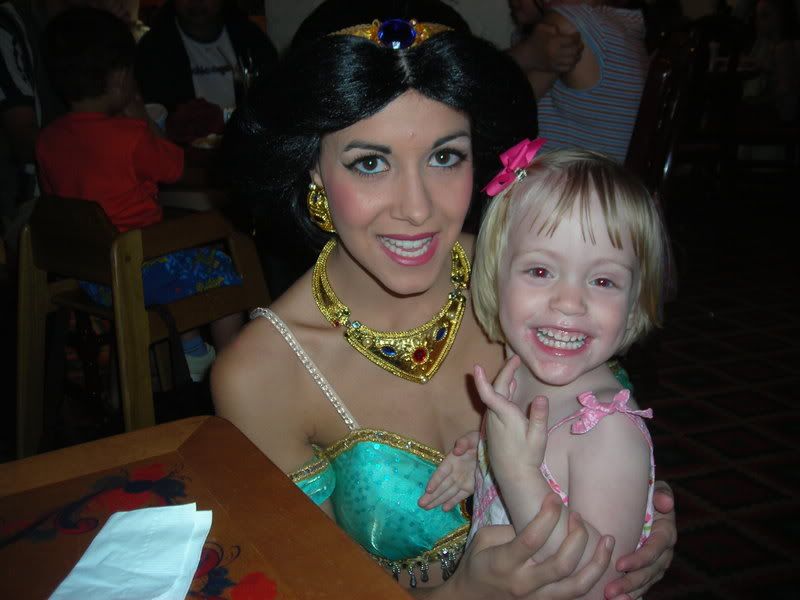 and finally, Cinderella…
Each princess stopped at our table and took time to ask the kid's name & age (and usually if they were twins). The kids ate it up. That smile that Morgan has on with Jasmine above – she had that on almost the entire time that the Princesses were near.
When lunch was finished, we went to leave and had to literally carry Tanner screaming & kicking out of the restaurant. He kept pointing at the door where all the Princesses had entered from – he really wanted to see them again.
We then left Epcot & headed back to the Animal Kingdom. Thankfully, it's a short bus ride. This time, there were only three families on the bus and we learned that Disney is 40+ square miles and employs over 57,000 people (that doesn't count some of the food vendors or bus drivers which are subcontractors). Truly amazing when you think about it.
And that, that was all done before 1 p.m. The kids and Randy are napping now. Take Two coming soon.