It's been a busy, busy week. I was in Denver for work last week - and before you ask, no the snow really wasn't that bad. Yes, there was about 8" of wet, wet snow that came down fast and furiously. But, for the most part, it came and it went, and the roads were fine for the afternoon drive to the airport.
It seems like the kids had a good time while I was away...here's the story in pictures.
Grandma got here last Thursday. On Friday afternoon, Morgan learned to blow bubbles.
As I mentioned in a previous post, Grandma decided to try potty training. It was a valant effort, but not much success. However, Morgan did make a stinky in the potty late this afternoon - and she was very excited by the whole tube of M&Ms that she earned.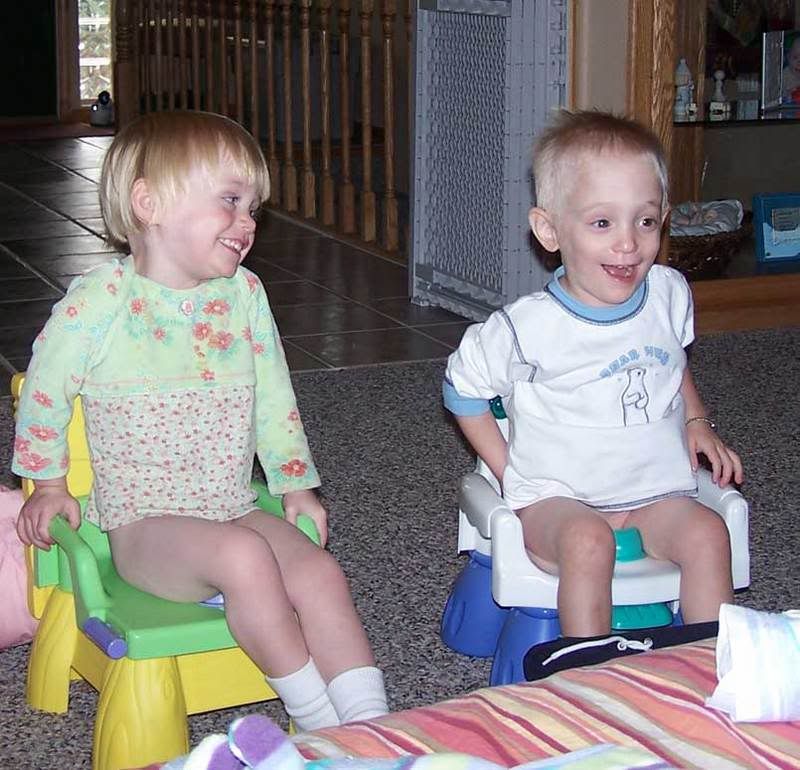 We've talked to the daycare, and they'll continue to work with both kids when they return to school next week.
While I was gone, they had plenty of fun doing the routine stuff with Grandma, including taking baths: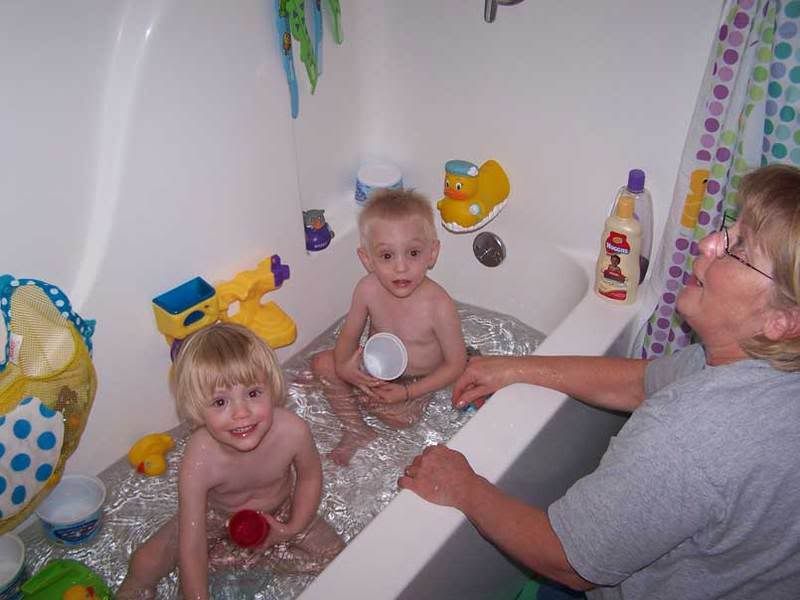 And, when Grandpa got here on Thursday, he was hauling Rufus with him. Rufus is a wooden horse that Aunt Sherry had started for them a LONG time ago. Grandma finished it up, and Grandpa transported him. The kids figured out a way to share the horse. (This is one of my new all time favorite pictures, too.)
I made it home just in time for the school halloween costume party. I'm judging these costumes a success since most people knew what they were supposed to be (especially when they were together).
And, today was really the FUN day for our family. Both sets of Grandparents were here. We started the day at the Deanna Rose Farmstead - a great old farmstead that a neighboring city has set up. It's FREE to the public and very wheelchair friendly. So, it made for a great early morning trip.
Then we came home, and the fun really began. This was Tanner & Morgan's FIRST pumpkin carving. Now, Grandma Crazy Woman (appropriately named) believes in doing things the fun way. And, if you are going to carve pumpkins, you have to get in the spirit. She did so by bringing funky hats for everyone - and a silly ghost that the kids danced with (to the song "I Want Candy").
Then, the fun began. Here is Morgan when she first sees the "guts" of the pumpkin.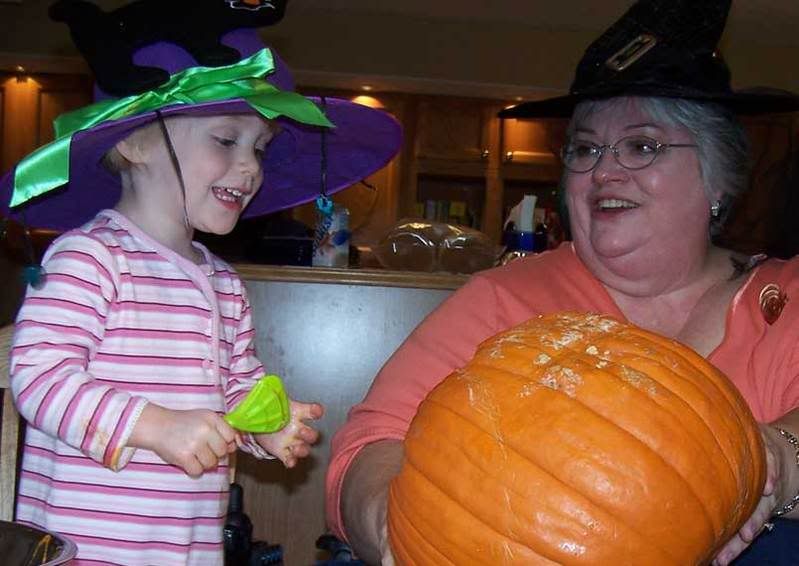 Helping Grandma Crazy take out the guts: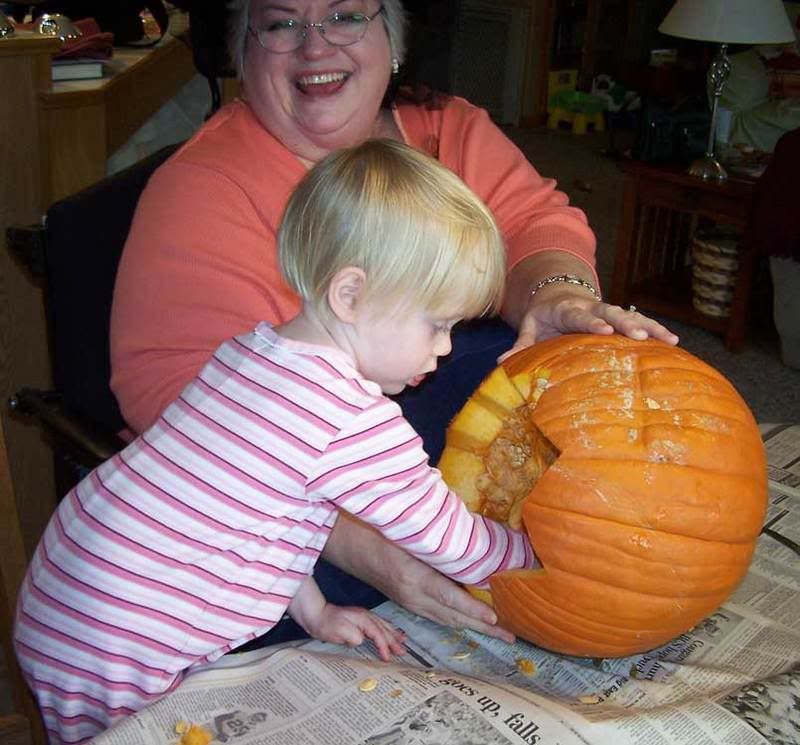 All four participants: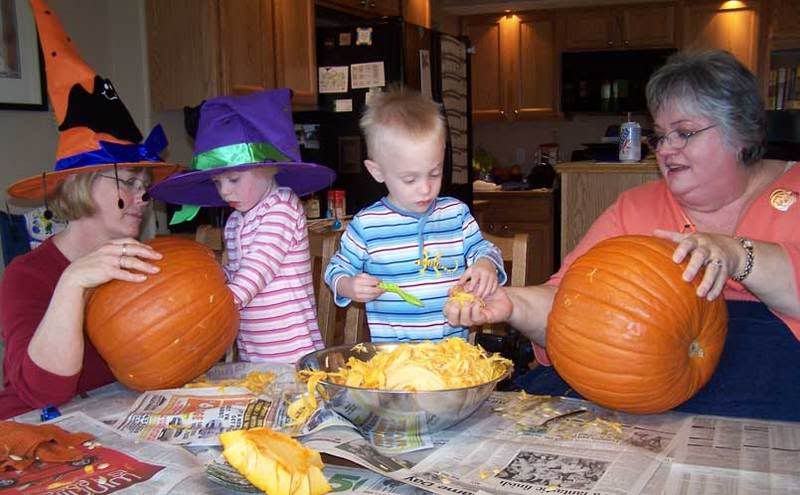 Helping Grandma Z: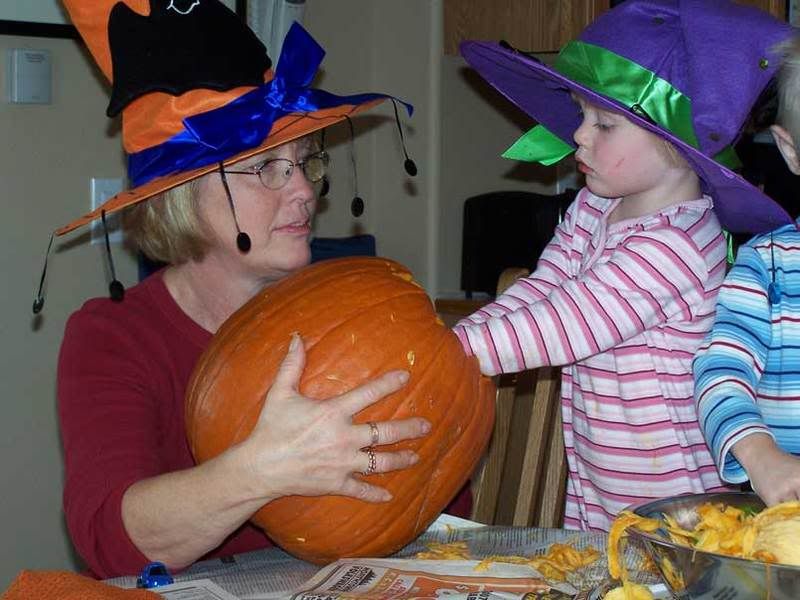 (Yes, we spent most of the afternoon only seeing Morgan's hat.)
Playing in the pumpkin guts: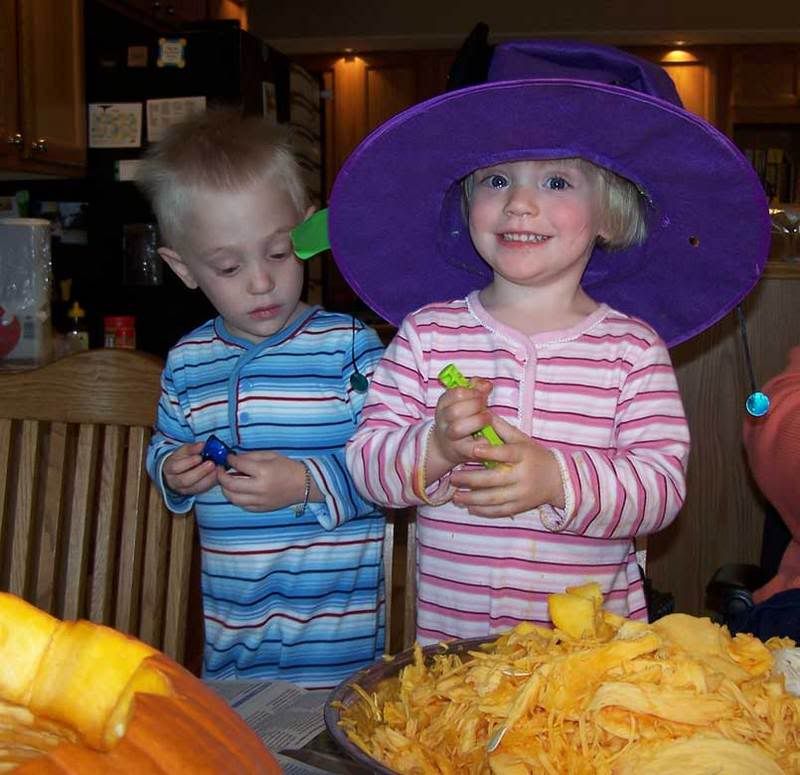 Pleased with the results
Tanner & Morgan with their first Jack-O-Laterns:
Happy Halloween!