Yes, indeed, we got a late start today. The kids didn't get up until around 9 a.m. – and it was after 10 o'clock before we left the hotel room. But, the kids were well rested and in better moods.
We started the day at the Magic Kingdom, and since we got there much later than we originally hoped (10:45) – all we could do was a bit of shopping before our lunch reservations at the Crystal Palace. The Crystal Palace features a nice buffet with Pooh, Eeyore, Piglet, and Tigger.
We've been really impressed with how much character interaction we've gotten at these meals. We saw each of the characters twice today except Eeyore. Once again, Morgan was our character groupie and Tanner was our chicken.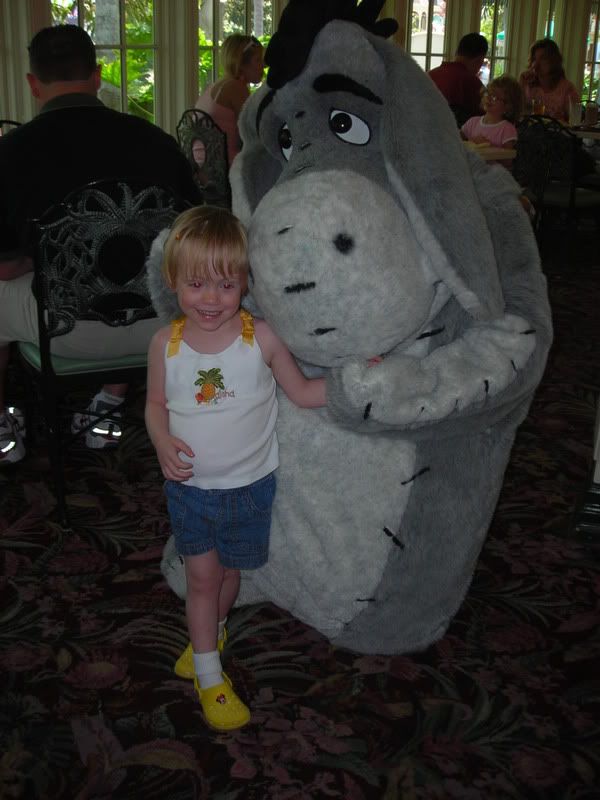 He would jump & shout whenever he would see the characters, calling out their names, pointing – but whenever they would get within 10 feet, he would retreat behind our legs, backs, or any available structure.
He did better today, however, and we did manage to catch a few pictures of him with the characters…usually as long as mommy or daddy were nearby.
This one caught early in the meal….
This interaction caught at the end of our meal….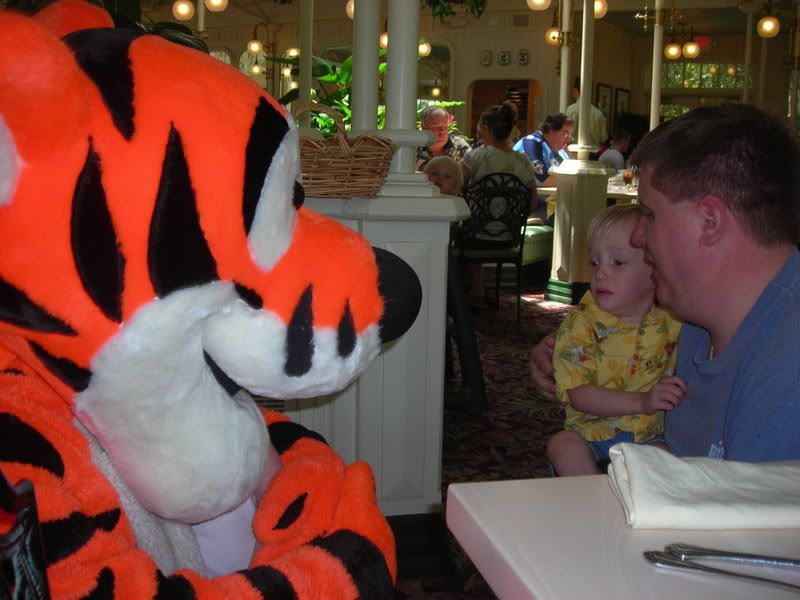 He got better towards the end…we managed to sneak in pictures with Pooh & Piglet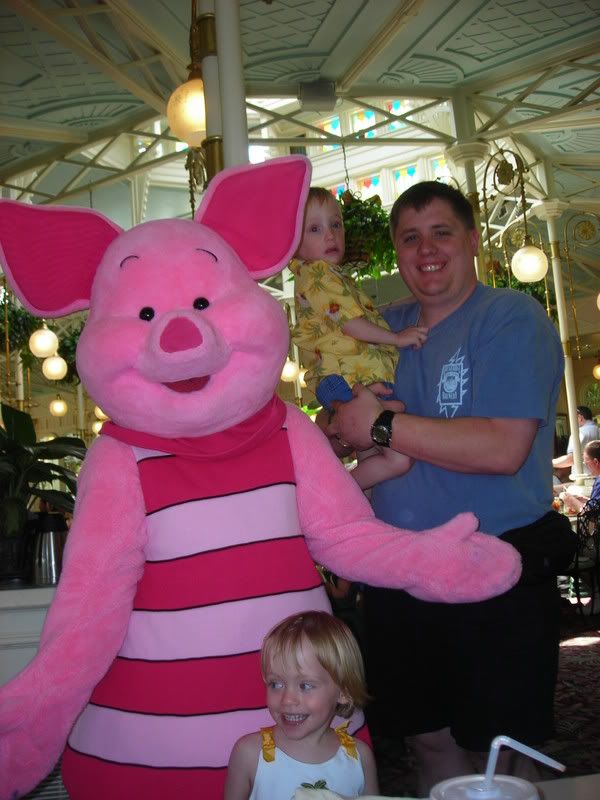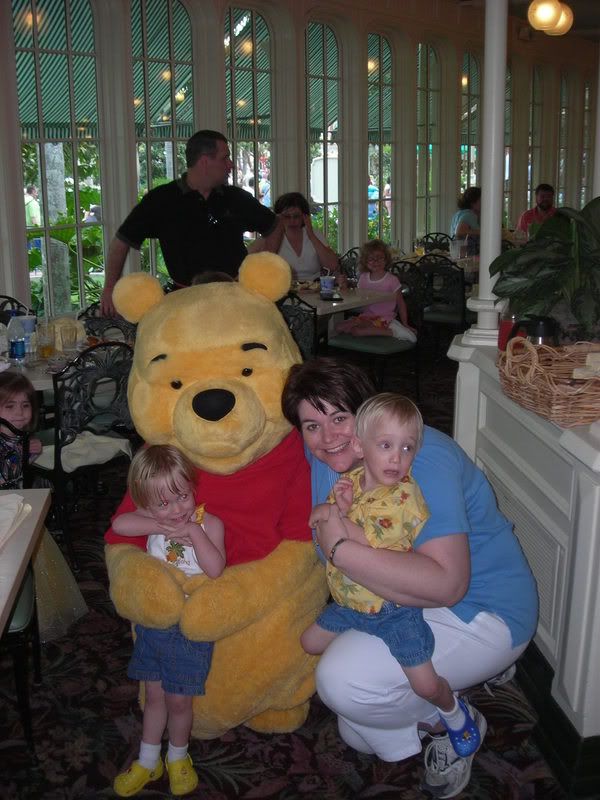 We then went and hit a few rides that Randy & I wanted to see – even if we knew they might not be to the kid's liking. We hit the Pirates of the Caribbean, Jungle Cruise (dorky, but a Disney classic), and the Haunted Mansion. We finished the day up with the daytime parade.
They both loved the parades – especially the princesses. But, really, that has turned out to be both of their favorite part of this entire trip.
Then we packed up & headed back to the hotel. We stopped by at the gift shop & purchased the kids a Mickey animal (Tanner) and Minnie (Morgan). For the kids, it was love at first site.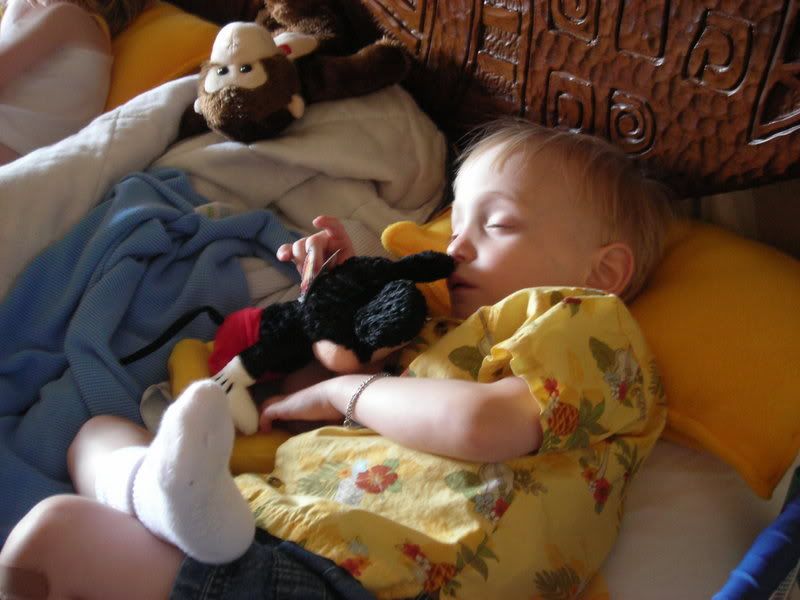 You know it must be serious if Minnie sleeping with Prayer Bear and Morgan.
After nap, we watched the animals for a while. We had two giraffe, three zebra, a couple of wild boars, and a bongo. The giraffe were about 100 feet from our window while the bongo was literally 18 feet below our balcony. It's neat to watch them.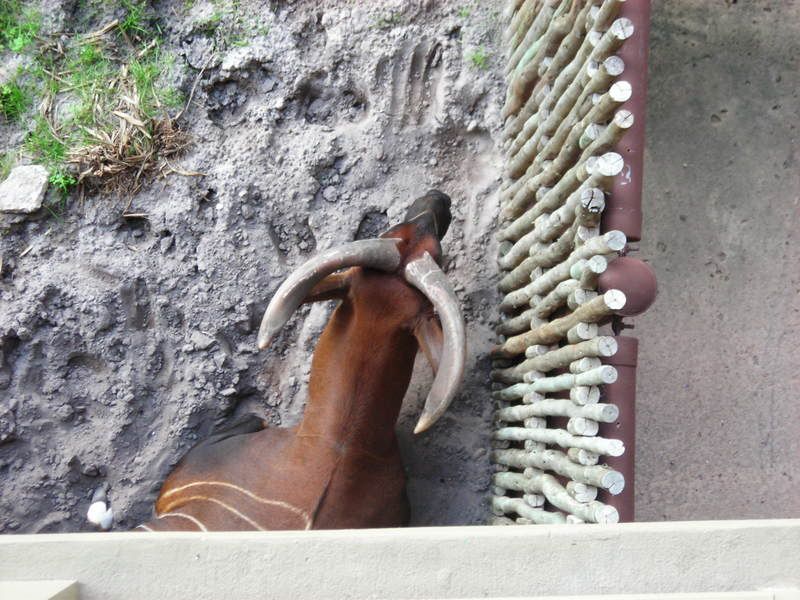 (this is a Bongo – kind of like an antelope, called the "Shadow of the Forest")
We then headed out for a quick dinner at the hotel café (the Mara). And, let the kids play in the wading pool. They literally cried and threw a fit while putting on their swimsuits, but had a ball once they started splashing water.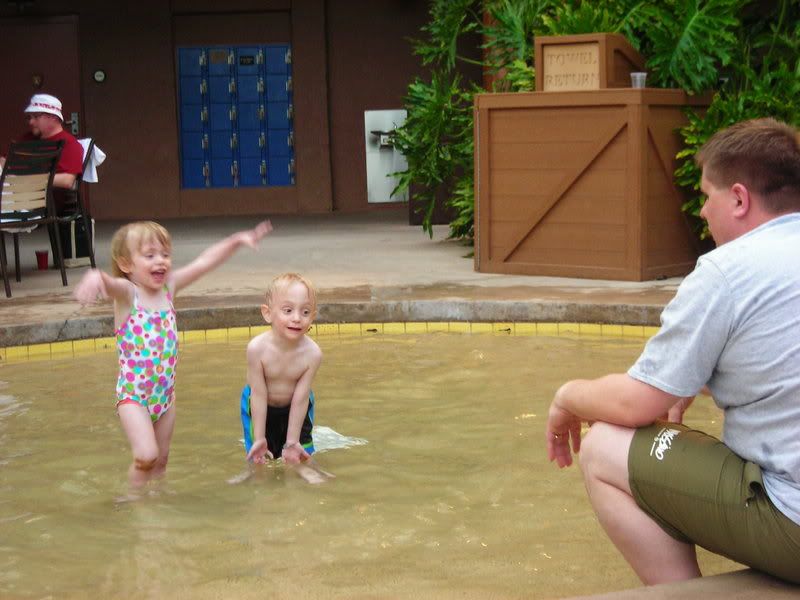 I can't believe that we only have one full day left. We hope to get to the park earlier tomorrow – we're trying to get the kids to go to sleep now. We now have late lunch reservations in Epcot with Chip & Dale, Mickey, & Pluto. Tomorrow we plan to spend in Fantasyland (Small World, Mickey's Philharmagic, etc) and Toon Town (Minnie & Mickey's Houses, Goofy's Boat, and Meet & Greet with the characters ~ hopefully the Princesses).
Tomorrow evening / night, we plan on hanging out at the lodge. We'll have to leave in good time on Saturday morning (9:30 or so), so we want to make sure bags are packed before we leave. We may try swimming again, playing on the camp equipment, or checking out the animals again.