As today drew to a close, Morgan walked hand-in-hand with Daddy down the hallway singing "It's a Small World After All…"
We finished today in good style. We started by taking an alternate route to the Magic Kingdom (via Epcot). We wanted to see what would be required when we went from Magic Kingdom to Epcot for dinner, and it also gave us the opportunity to ride in the front of the monorail. That was really neat, and the kids had a good time (although the driver could have been a bit more cheerful – guess he needed more coffee).
We started the morning off by heading to Toon Town inside of Disney – this is where Mickey's & Minne's houses are located. The kids got a kick out of touring the houses.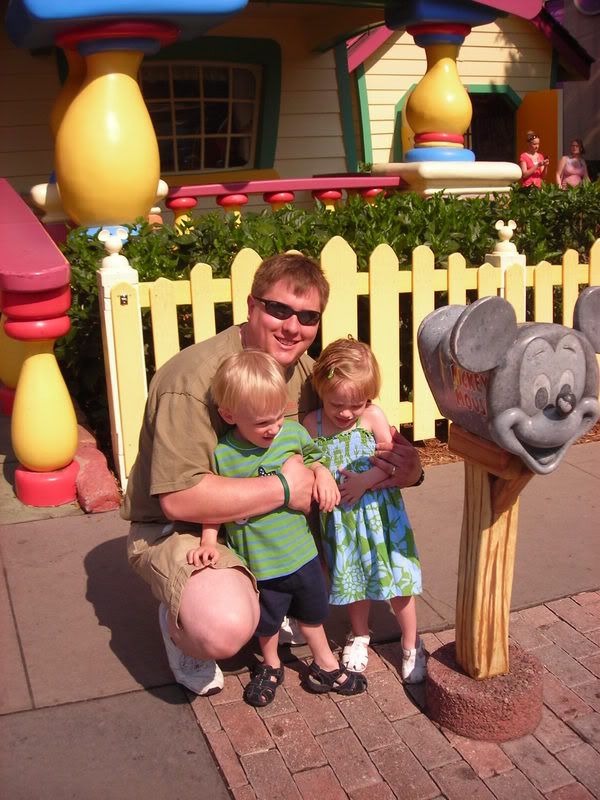 (Minnie's refrigerator was stocked with cheese.)
We tried playing on Donald's Boat – but Morgan right now has a phobia of getting wet. Of course, she got splashed as we entered the boat – and was D.O.N.E.
Then we hit the character area in toon town and met three princesses – Snow White, Cinderella, and Belle. Another replay of the other day – while Tanner won't have anything to do with the full characters, the "face" characters he hugs and laughs and talks with it. It's amazing how he transforms.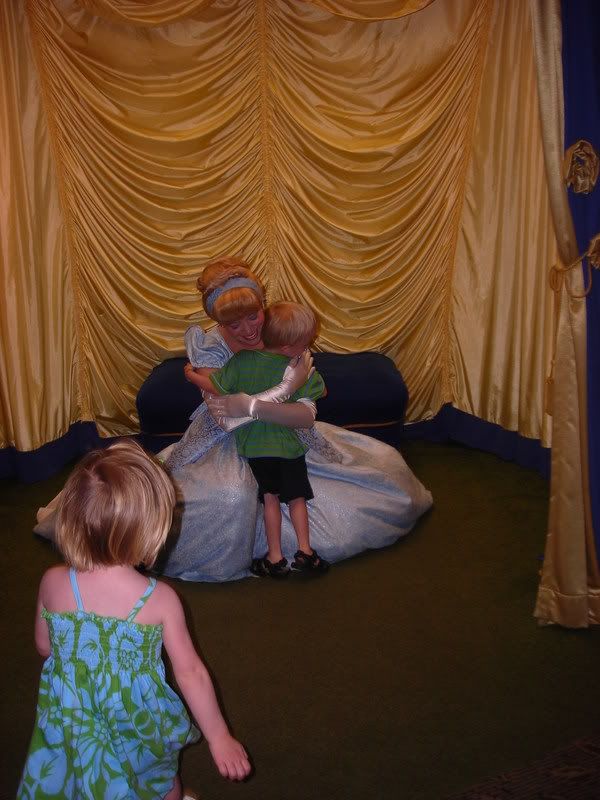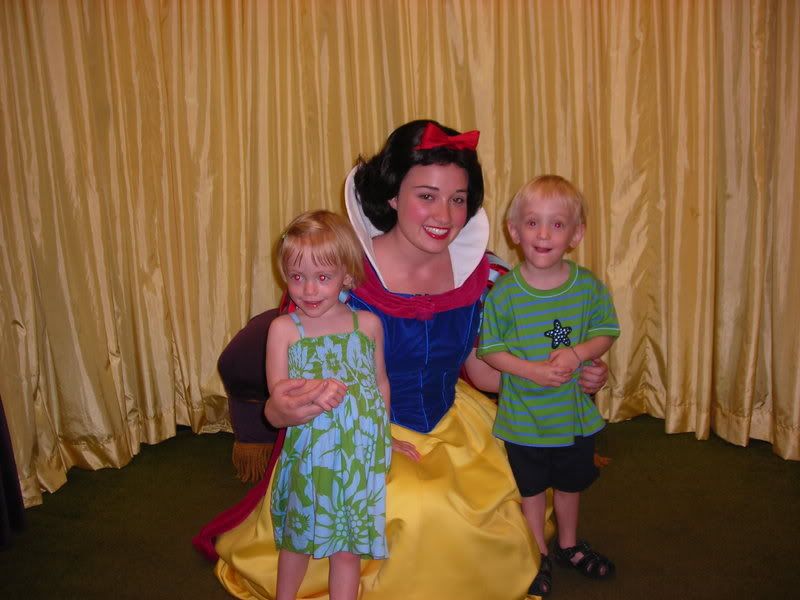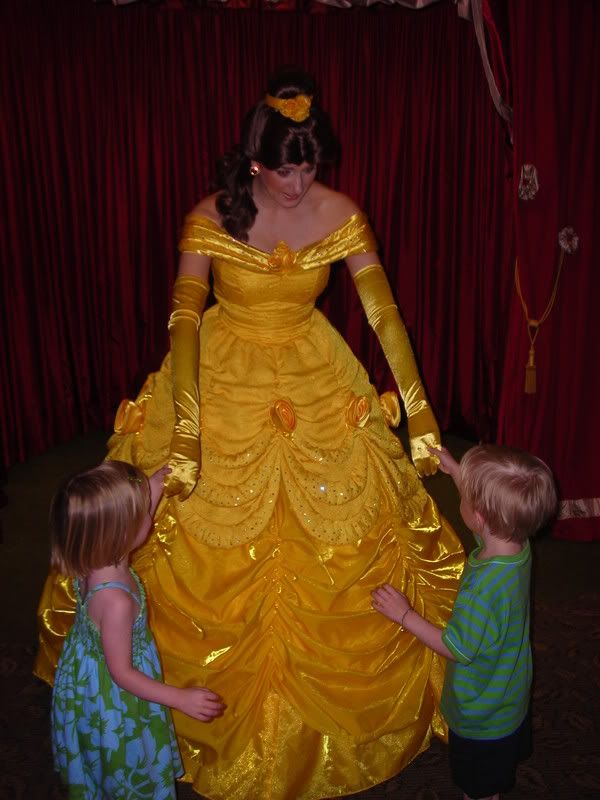 Then we went through the Mickey's Philharmagic 3D show. This was just incredible, and probably one of my (and Tanner's) favorite shows. They go through many of the favorite songs of their different animated flicks – all done with incredible 3D affects (they even pipe in the smell of apple pie at one time & splash you with water to add to the effect). It was really, really neat.
We hit It's a Small World. If you couldn't tell – it was one of Morgan's favorite rides because "it wasn't dark and scary". She has sang that song off and on during our entire day of trip. She asked to go on it again, but was side-tracked by Cinderella's Carousel. After that, we headed back to Toon Town and did a loop around the Magic Kingdom on the railroad before heading to Epcot.
At Epcot, we really only went for the meal. We're still having a hard time convincing the kids that Chip and Dale are two Chipmunks, not just one Chipmunk named Chip and Dale. This was especially confusing when they both showed up at our table at the same time.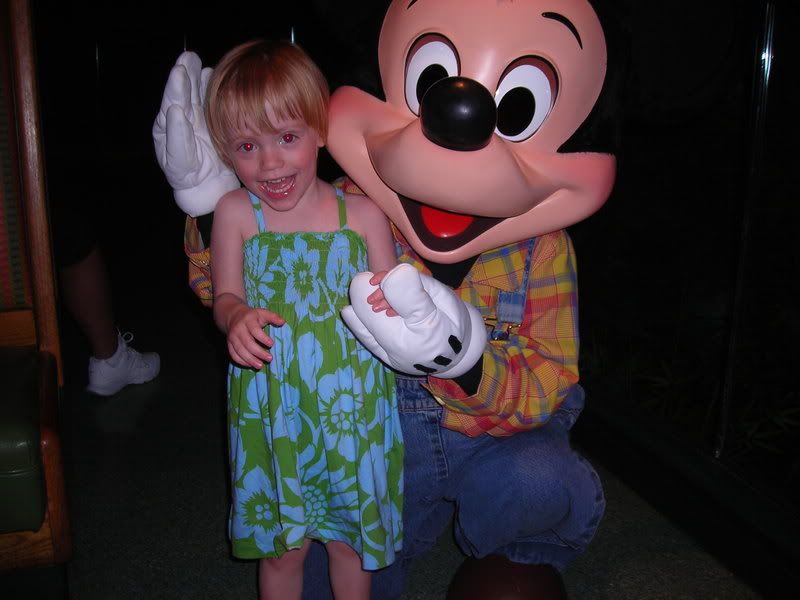 Oh, wait, you don't see Tanner in those photos…yeah, that was because he was glued to his seat.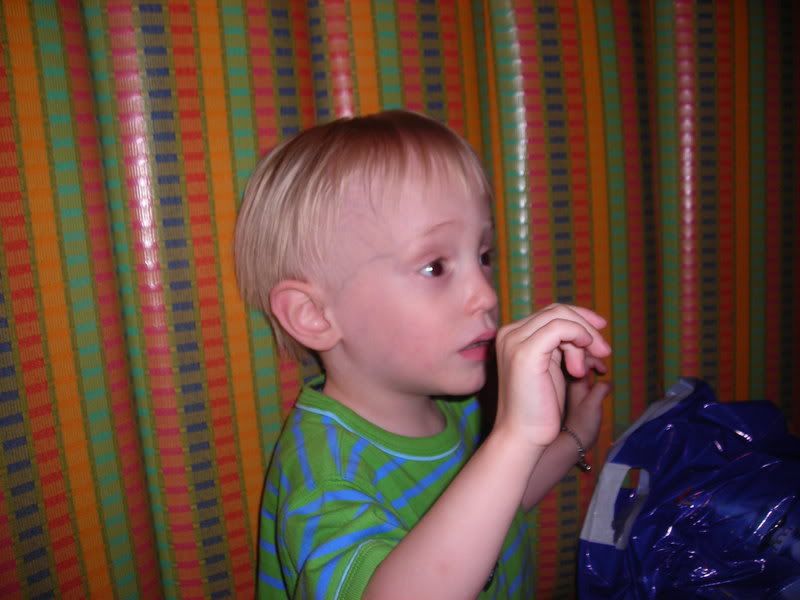 He did smile, wave, and blow them all kisses. He even played Peek-A-Boo with Mickey. We had a late reservation, and we got a lot of character interaction out of it. Pluto tried to eat Morgan's ice cream for dessert, Mickey played with both her and Tanner, and the chipmunks were probably by our table a half a dozen times. Each time, Morgan had to hop out of her seat and give them hugs. When asked tonight who her best friend was, she replied "Chip and Dale".
Then we made our 16th bus ride of the week back to the hotel. The kids took a short nap, and I started packing us up. We came in 5 checked bags, it looks like everything will fit in those same five bags to go home in.
We had dinner again at the cafeteria here in the hotel (I never dreamed we'd eat there 3 times this week). Then we walked around and viewed the animals, let the kids play on the playground, and then spent some time in the lobby while we figured out transportation for tomorrow morning.
While the kids played on the playground, it gave Randy & I a little time to reflect. We know the kids aren't going to remember much about this trip – but we certainly are. This trip was a time for us to hopefully relax and find some peace with the last three years of our lifes. Our trip departing on Monday seemed appropriate – Monday was the day that I started having problems with my pregnancy. Just two short weeks before the kids were born – way too early.
We fought through the NICU – we've battled the liver transplant – subsequent egg allergy ~ and all of the emotional baggage that goes along with that. It has not been an easy road…and there are still days that it is very overwhelming.
During the parade on Thursday, as I stood there with Tanner on my shoulders, I couldn't see his face. But I could hear him laughing, calling to the princesses, and waving – I could feel his smile. That's what this trip was about – letting ourselves experience happiness. And while happiness to a three year old is seeing princesses, happiness to thrity-something year olds is having children healthy enough to enjoy it all. Thank you, Walt Disney World, for letting us experience that.
We head back home tomorrow mid-day. The kids are already asking when we'll be back…after all, this is the Happiest Place on Earth.