As predicted, Tanner & Morgan were up early (although not as early as we had thought). We still decided to hit the beach before hitting Legoland (which doesn't open until 10 a.m.).
The beach was cool (temperature) and beautiful. There were a handful of people on the beach this morning, and we wisened up and had the kids wear their beach socks to minimize sand (that worked well). But - they still ended up cold and very wet. We had to change Tanner's clothes from the waist down (Eeks - I didn't pack this many changes of clothes & there is no washer & dryer at the hotel).
We came back, changed clothes, ate breakfast, and headed north on I-5. Legoland - here we come! It just so happens that Tanner & Morgan had a preschool classmate that is in the area at the same time. So, we're spending some time with them during our trip - and that included our day at Legoland.
We started by riding a few rides and playing in some of the free play areas. It was a chilly day - so some of the water features & play areas weren't working today.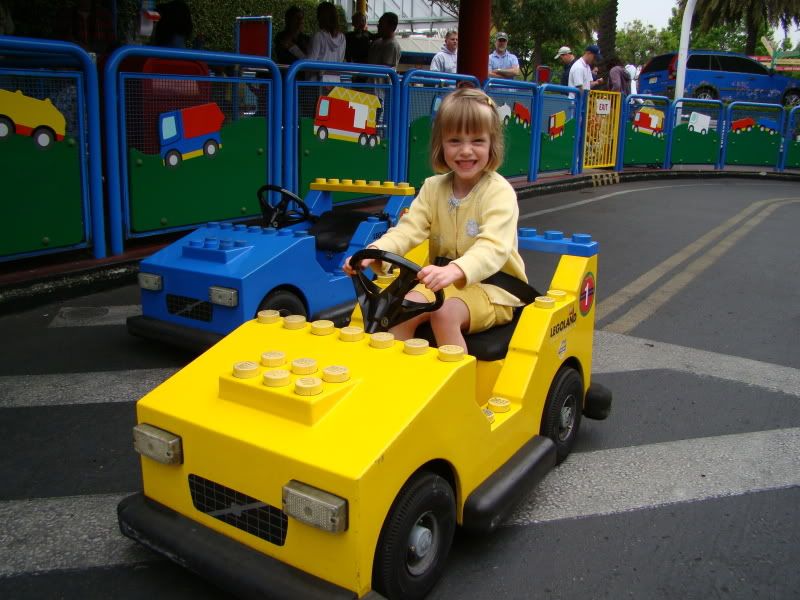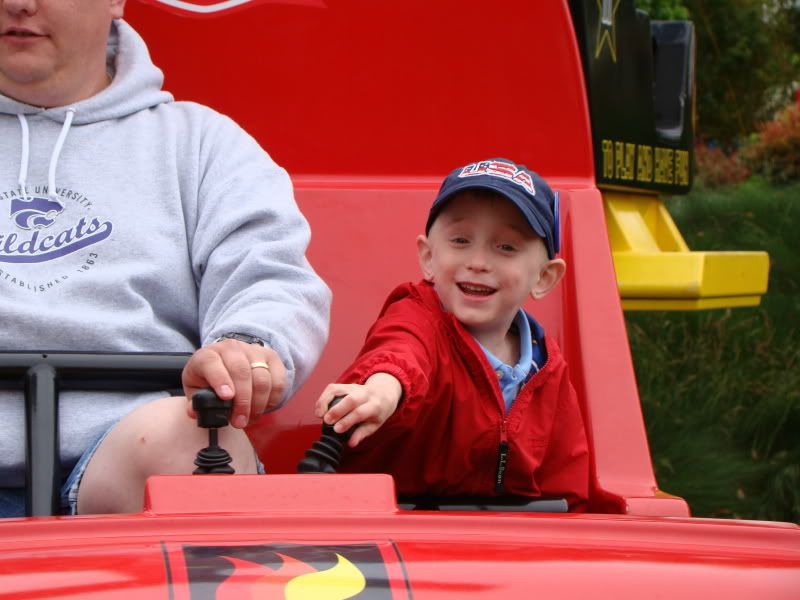 We took a slight break from our friends and decided to take a tour of how they make Legos. We walked through the display, and as we exited the display we were approached by a nice lady who asked Tanner if he were here on his Make-A-Wish trip (he is wearing a MAW pin on his hat). He told her yes - and then she took us on a close-up tour of the equipment.
Tanner & Morgan getting to stick their hands in the plastic that eventually becomes Legos: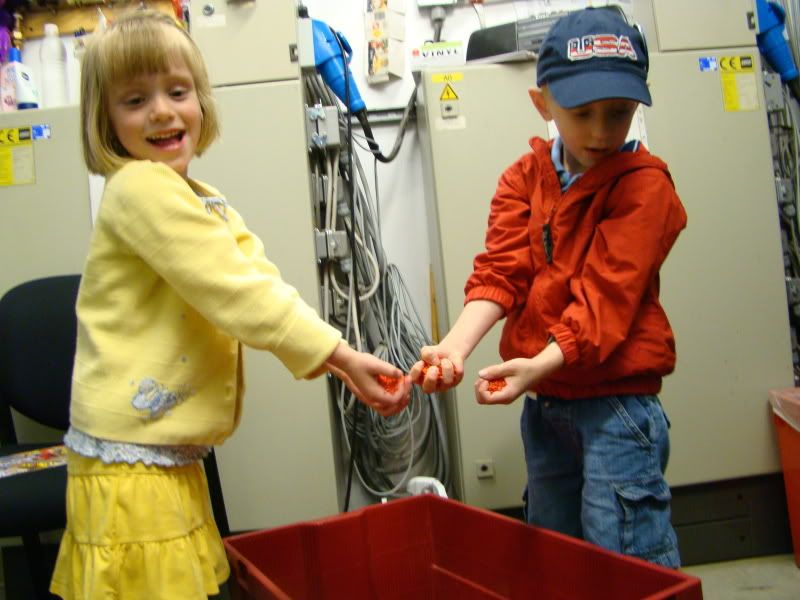 the molding machine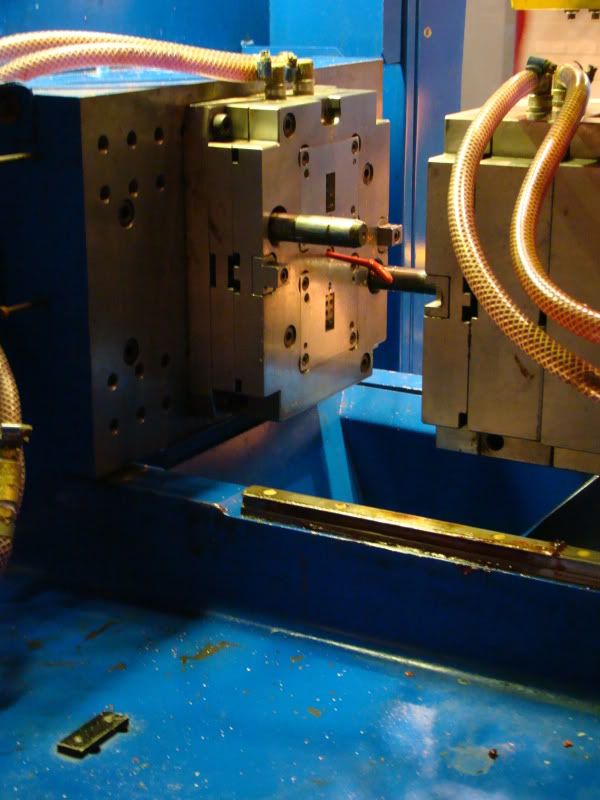 With our tour guide, Renate. She even gave the kids some very special Legos & momentos.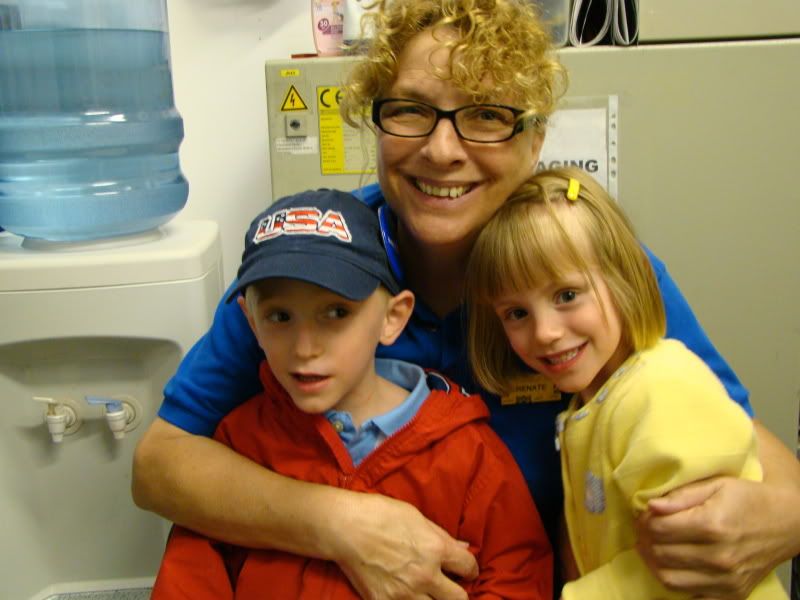 After that, we started down a slippery slope when we allowed the kids to ride the Log Ride. They didn't get too wet - so we decided we were safe. However, then we decided to let them ride the Pirate Ships - where you actual battle other guests (both on the boats and in the crowds) with water canons. This time - notice the progression from mostly dry to soaked.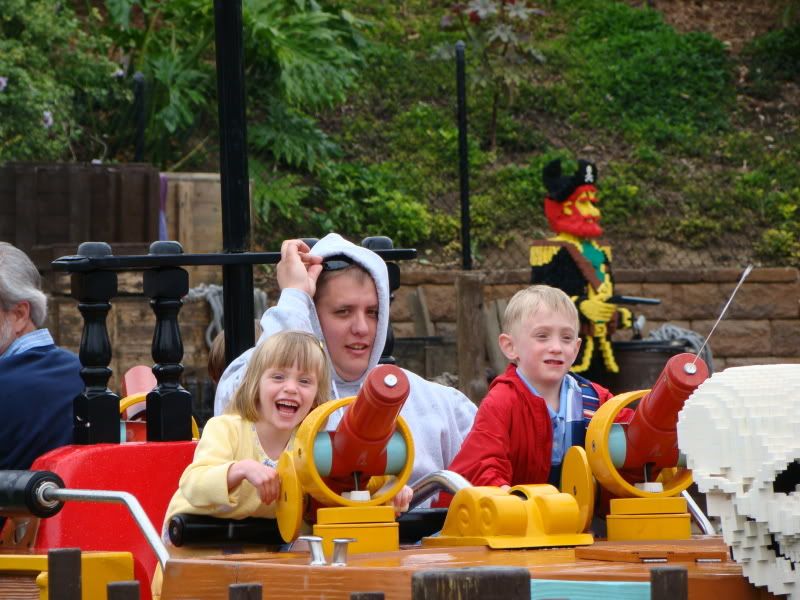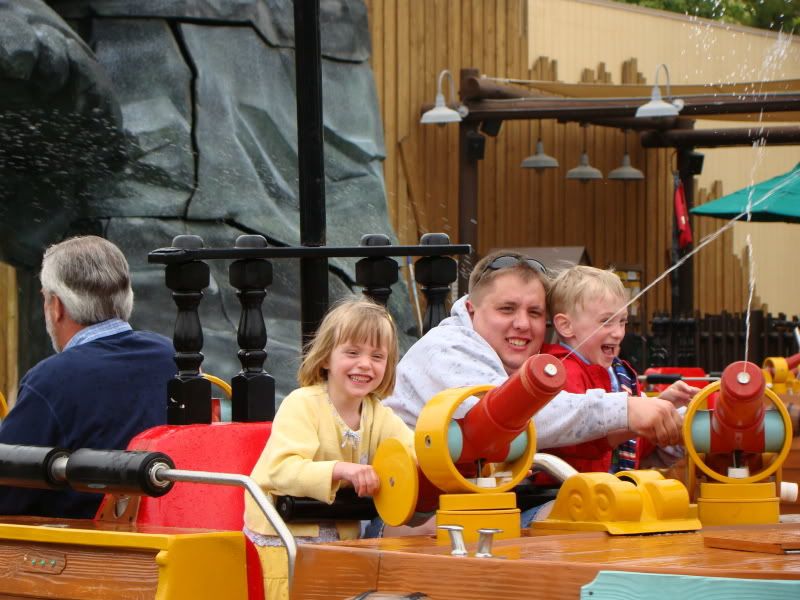 And, it only got cooler. Tanner & Morgan's coats were soaked from the water ride - so it was a chilly afternoon. We focused on "dry" activities - which included some fun things like face painting, the small dragon rollercoaster, & driving a boat that didn't include water canons.
All in all - it was a great day at Legoland. (And, we'll be back on Sunday.)