No, it's a post!
I'm going back and catching up some on the last month of my life that I seem to have lost. As we've slowly unpacked, Randy & I realized today that it had been over a month since we took any pictures of the kids. So - an update on life here...
Christmas. I think Christmas in the eyes of a three year old has got to be one of the better Christmases. These kids truly believed in Santa Claus - enough so to overcome their fears and sit on his lap (our first trip to Santa, too!).
We had a really good Christmas, although it wasn't the best for Tanner & Morgan. Yes, Santa Claus did make it to our house. And, while the upstairs Christmas tree was decked out on Christmas Eve...
The downstairs wasn't nearly as festive...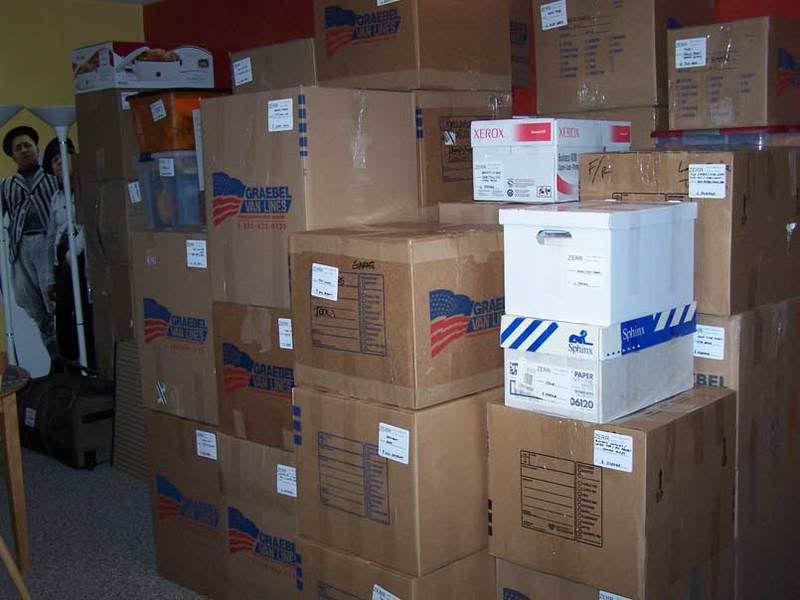 Tanner & Morgan opened all of their gifts (a. aren't the matching monkey pjs cute? b. yes, Tanner got a Cinderella for Christmas, that's what he asked for, and Santa doesn't follow typical gender rules).
And, then they were promptly packed for our impending move. The good news is that when they got to our home in Colorado - it was like Christmas all over again.
The 27th was Tanner & Morgan's last day at preschool. I can't tell you how hard that was for all of us. We had pizza brought in for lunch that day - and had also brought oreos. However, we were facing a large snowstorm and had to pull them out before they actually got to share the Oreos with their friends. I would post a picture of Tanner & Morgan with their best friend, Aiden - but I don't have permission to post his photos.
I will tell you all that Aiden broke my heart. When I picked them up from school, it was right at the end of naptime. Tanner got up and got his stuff - and gave Aiden a hug. Aiden then asked his teacher if he could give Morgan a hug. When that was done, Aiden came up to me and asked me if I was taking them home. I told him yes - and he asked if they were moving to Colorado (again, I told him yes). Then, he asked me if I would bring them back again - because he would miss them and they were his friends. What can you say to such a sweet kid like that? Aiden, buddy, Tanenr & Morgan still miss you.
And, the teachers who cared for these two...what can you say? You don't even realize how attached you are until it's time to go.
Here is Tanner with Ms. Mandy - while Ms. Mandy wasn't around for too long (I'm guessing about 6 months) - I think Tanner won her heart. I remember after one of her first few days, she came up to me and asked "what the heck had happened to that kid?" With all the information she had been given about Tanner (egg allergy, etc) - no one had mentioned his liver transplant until she saw his scar. Ms. Mandy set a lot of good boundaries for Tanner, but still did so with warmth and compassion.
Then, there is Ms. Melonee. She came about the same time as Ms. Mandy. These women were so wonderful for Tanner. Ms. Melonee was especially fond of Tanner - in fact I think I heard "favorite" tossed around from time to time. Tanner was spoiled so very much by Ms. Melonee - she & Ms. Mandy made special desserts for him & they even cooked in the classroom with 20 pre-k kids (lord help them!). She also struck a real soft spot with Randy & I. Ms. Melonne was working toward her Civil Engineering degree. She struggled (as both of us did, too). We can't help but have a ton of respect for someone who was working their way through college and not giving up. I couldn't have asked for a better role model for my children.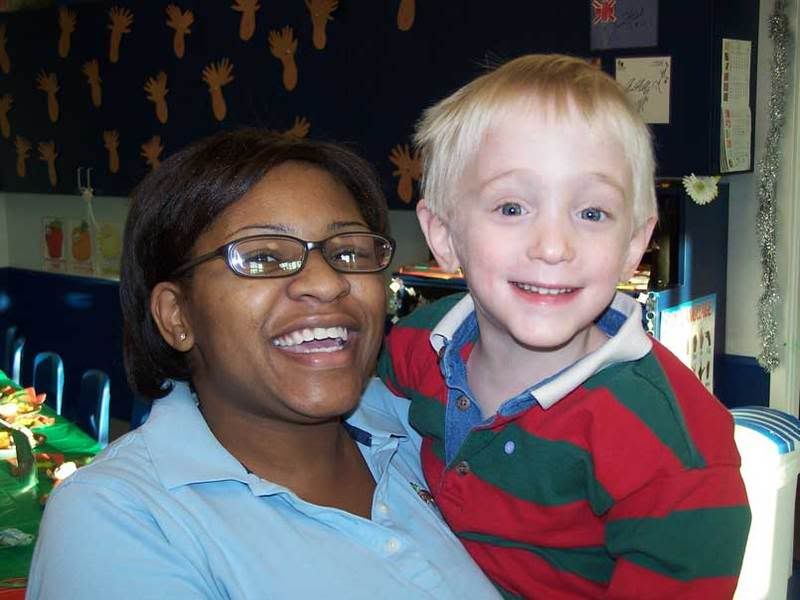 Ms. Keighley was there from the first day of Tanner & Morgan's time at school. She cared for them in their toddler classroom - and then continued to have them in the Pre-K classroom. She had two boys of her own - and through everything she went through, she was always there. She was a constant, steady force - and it was somethign that was so very important to me in their preschool upbringing.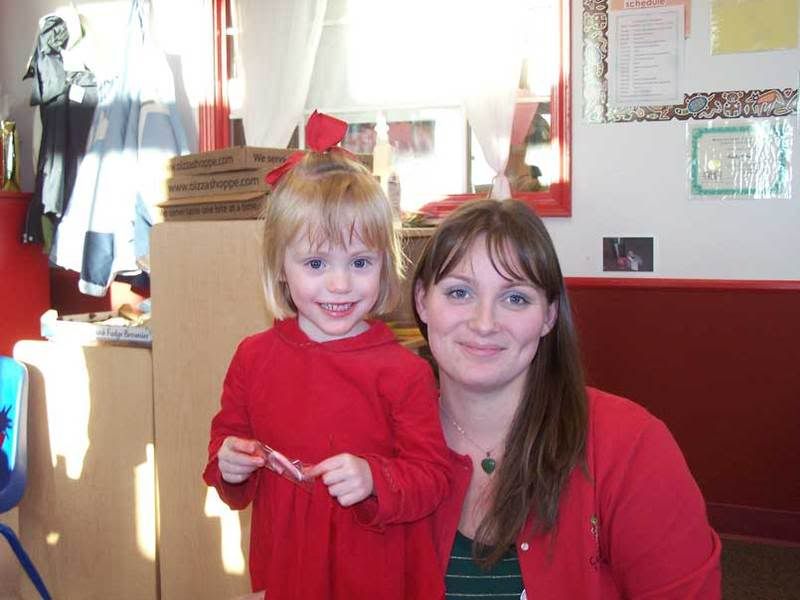 Poor, Ms. Tomi. When we signed up for preschool, we met with the director and gave them a list of our requirements for Tanner & Morgan (egg allergy, liver transplant, etc). However, when we arrived for the first day of school, there was a new director - and none of the information had been relayed! So, we gave Ms. Tomi a long letter of everything the kids needed - she never batted an eye. While she was never one of the primary teachers for either kids, she was always there and provided a lot of love and support for the kids (and mom & dad, too).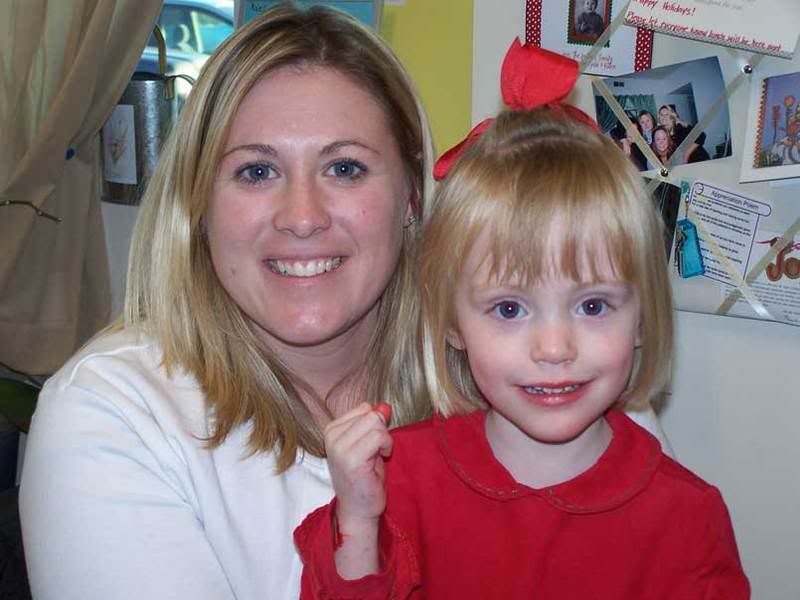 We were so blessed to have found such a wonderful daycare that cared for Tanner & Morgan for 19 months. We have a good school here, also, but it's still been a difficult transition. The new daycare seems to be excelled academically - it's exceptionally clean. The teachers are wonderful - most of them have been at the school for over three years. They even have several male teachers, which I think is a good influence for both kids. But, they don't provide lunches (this has become a bear of a chore) and it doesn't have a large outside area. The kids aren't getting enough energy burnt off during the day - and we are definitely feeling the effects of that at night. We will probably keep them there another 2 - 3 months, and evaluate our other options after they are 4 years old.
After a bone chilling month here in the Mile High City, we finally caught a break in the weather this weekend. We took the kids to a couple of different parks this weekend. You could tell they were so excited to burn off the energy. And, they fell asleep promptly tonight. Here are some pictures from today: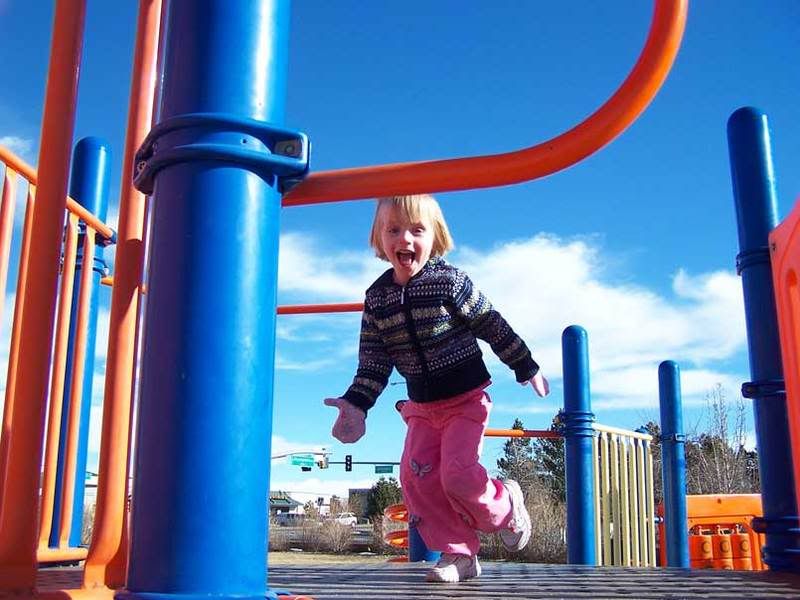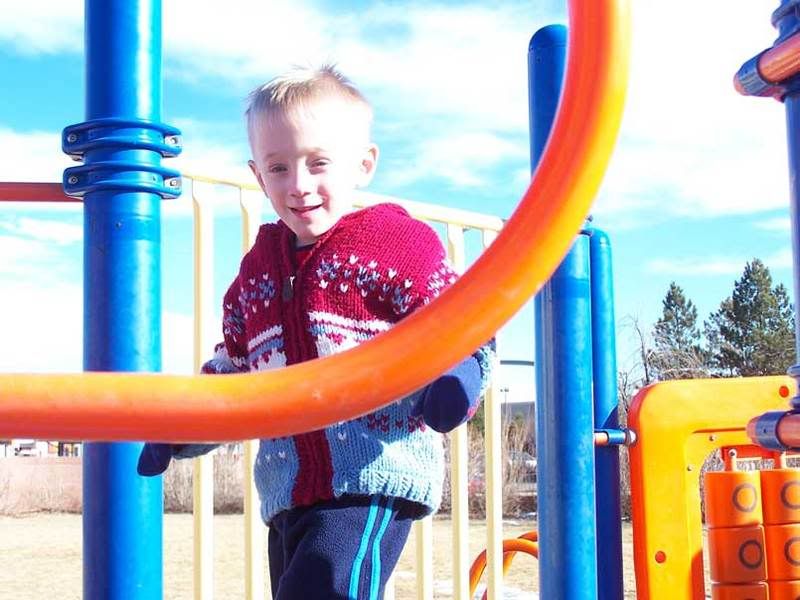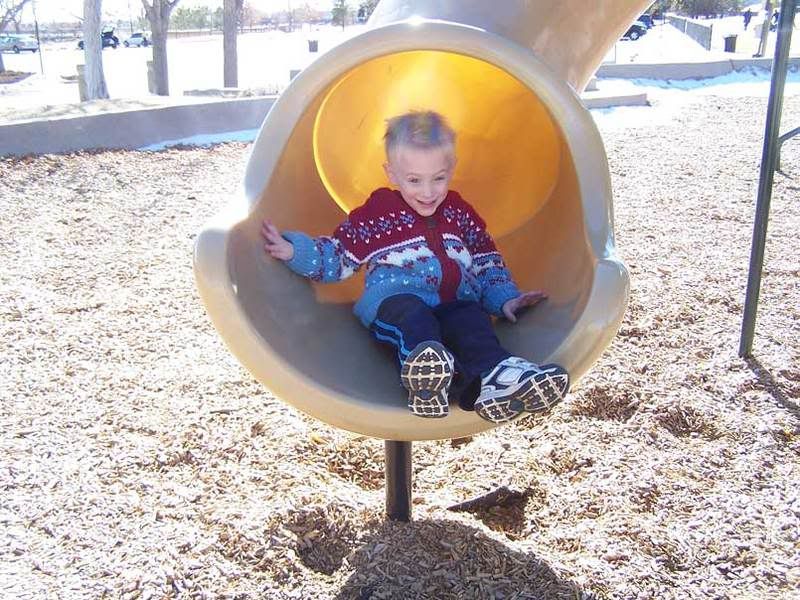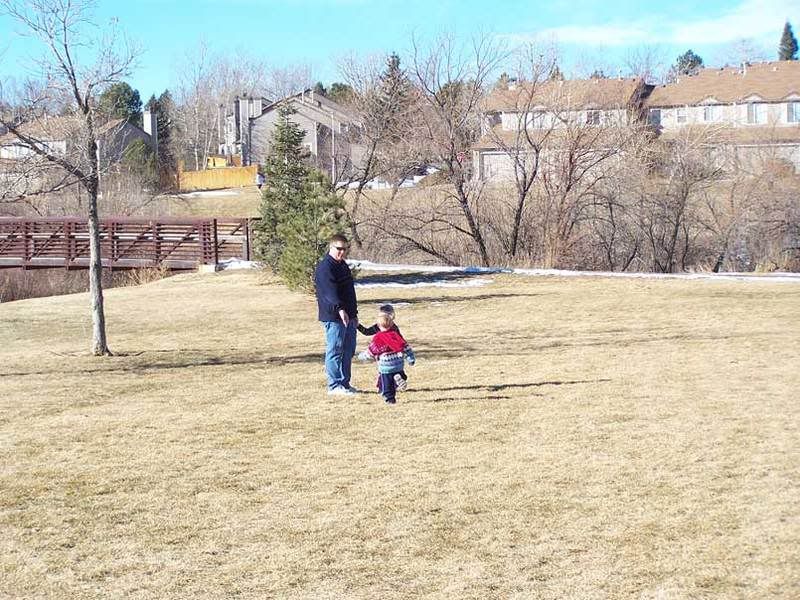 (Doesn't it look like they are plotting in the one below?)
Randy & I are hopeful that in a few more weeks, the house will look & feel more like home (we've made good progress - but we've still got some boxes that need unpacked). I think putting some of our ideas in the house will help, too. On tap - finishing off a space downstairs for a real office (and not a bedroom that is usd as an office). We surveyed the yard this afternoon - it needs quite a bit of TLC. The good news is that is appears to have a full sprinkler system. But, we've got lots of work to do - repairing or replacing part of the fence, removing a large amount of dead leaves, killing grass that has grown in the river rock areas, replacing some grass/sod, and leveling out the play areas). Eventually, we'll need to replace the deck boards on the deck - but we've probably got a few years for that. Hopefully I'll be able to update soon with some pictures of the new house.
Finaly note - if you haven't received our Christmas cards yet - it's because we haven't sent them! We'll send out letters soon with new address information - maybe we'll make it in time for Tanner's transplant anniversary...
Have a great week, everyone!