The kids took a late and long nap on Tuesday afternoon. So, we decided to do something prior to supper, and stopping at a park seemed like a great idea. We went to the Turtle Park, which is part of the Forrest Park. The kids had so much fun, climbing on the turtles:
And, they had even more fun throwing rocks at each other in the "Turtle Nest" complete with Turtle Eggs (some even hatching).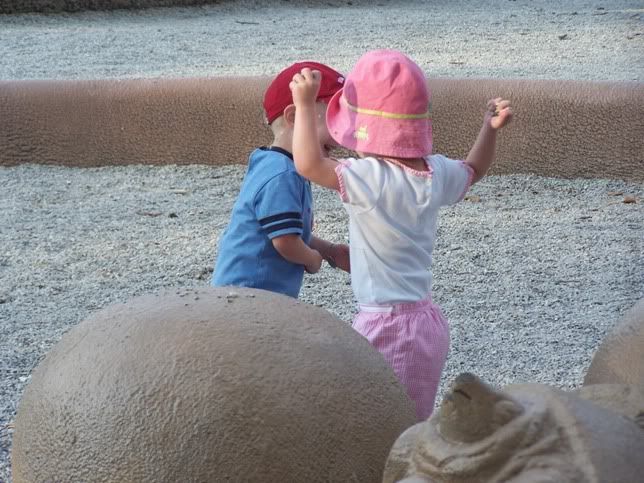 Unfortunately, we were out late, and the kids got to be later than normal. Which meant that we had crabby babies for Tanner's doctor's appointment. Tanner's Prograf was redrawn (despite the very low level, his liver was still very happy) and we'll wait to see how the level was.
The summary of the doctor's appointment - "NORMAL". Dr. Shepherd mentioned several times that Tanner was "normal" now, we should expect him to lead a "normal" life, and that the odds of him experiencing a major rejection or bile duct issue had subsided. They were pleased that he had not yet contracted EBV. They told us that he will probably develop it at some time, but the further out from transplant and the lower his suppression level, the less dangerous it will be for him (EBV is a virus that can lead to PTLD - a cancer in post-transplant kids). It's truly amazing to hear a doctor who has seen lots of very sick kids lament on how far Tanner has come...he remembers that little 10-pound boy with a big belly and stick arms, blue eyes in a sea of yellow. And, today, he got to listen to a 2.5 year old shreiking, climbing, and acting like a typical boy. We'll go back in February for Tanner's 2nd transplant anniversary and some more extensive studies - including a kidney study.
This afternoon, we went to the Magic House. It was a pretty good time for the kids, but the place was aimed for a little bit older kids. They did have a toddler area that the enjoyed. It included playing in the sand: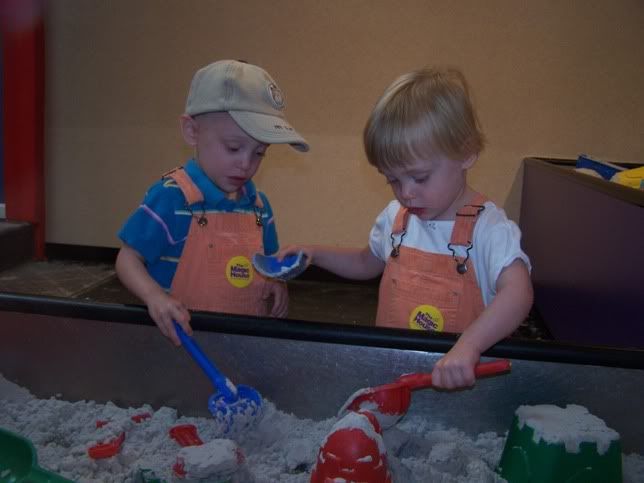 And, their favorite, playing in the water: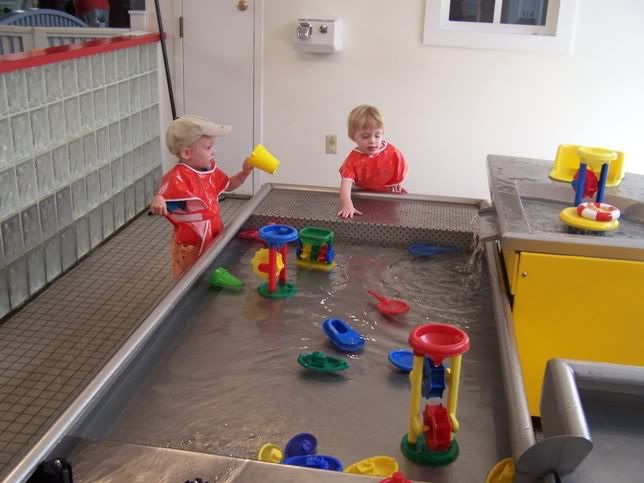 Afterwards, we found yet another park. In the grand scheme of things, it's amazing that seemingly their favorite thing to do is the least expensive. They absolutely love the playgrounds. We've hit the Columbia Cosmopolitan park, the Forrest Park Playground, Turtle Playground, and now the Kirkwood Park. No plans for a park tomorrow (although Grant's Farm may have one), but we are planning on hitting Faust Park on Friday.
Here they are riding the little springy animals: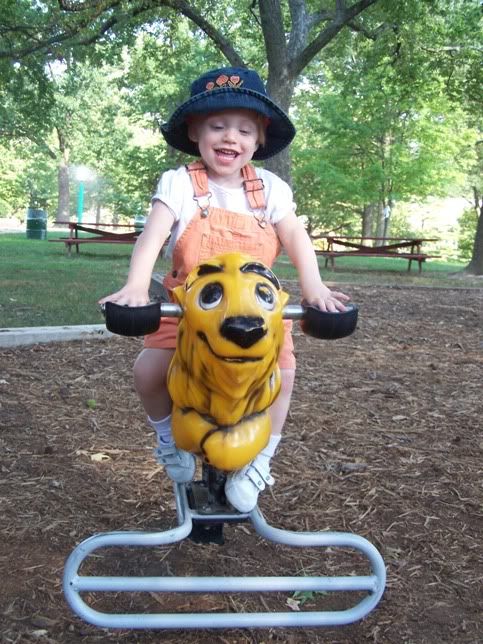 And, sliding...Every time that Morgan would get off the slide, she'd hold up her pointer finger and say "I'll be right back". And, she'd go down the slide again. Repeat about 10x.
Tanner just liked marching around on the playground equipment. This one had several different platforms connected by bridges, arches, and tunnels. He would march back and forth....to and fro...he is our little explorer.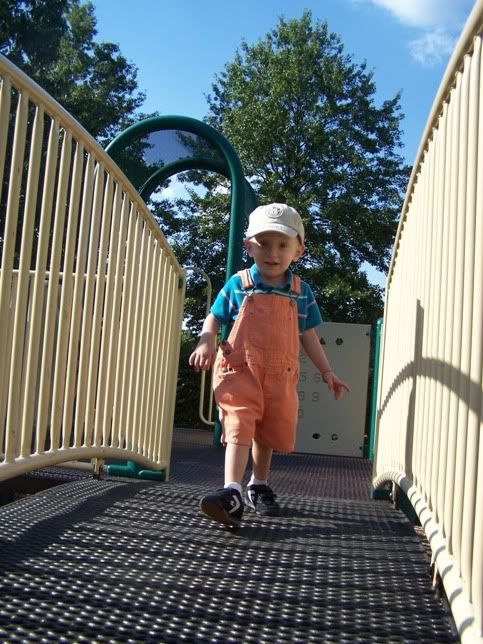 Tomorrow we're headed to Grant's Farm (where the Budweiser Clydesdale's reside) and back to the zoo (or another park) in the afternoon. Friday morning we'll go back to the zoo and ride the carousel, make a bear at Build a Bear, and head to Faust Park (for another carousel ride). Hopefully by then, the kids will be worn out and we'll have a peaceful drive home.
Until then, enjoy the pictures!